Continually enhancing our service to Iowans.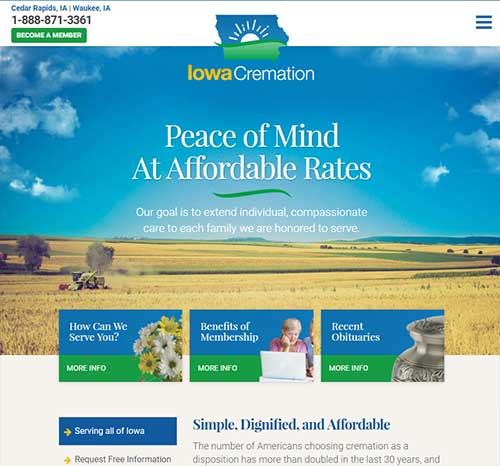 Our new and improved website was designed specifically for Iowans seeking information and resources when planning for end of life services. You will be able access important knowledge that can help in assisting planning for cremation.
For visitors searching for Obituaries of those assisted by Iowa Cremation, you will find that access to the most recent obituaries has been included on the home page. Our obituaries also offer the ability to search for obituaries by name. Additionally, all obituaries since Iowa Cremation has been in operation are still included in our obituary listing.
This advanced design offers in depth details on the many exclusive Benefits of Membership that Iowa Cremation offers. We know that when planning cremation services, receiving clear and concise information is important which is why we created our Resources section. This section includes a general Cremation Q&A to answer common questions, details about the Arrangements Process, and Cremation Process.
Our Become a Member portal is an exclusive and secure way to become a member of Iowa Cremation through our website. All information, service selections, and payment details can be completed in the comfort of your own home. This process can be completed from a computer, tablet, or smartphone device.
We also understand that visitors may be interested in information when a death is imminent or has occurred. Our Immediate Need section gives in depth information on what to do prior to and after a death has occurred. Many members and families find that using our Obituary Writing Tips are helpful if composing your own newspaper notice. We have included the ability for families to pass along the obituary directly to us through our simple Send Obituary portal.
Everything we do at Iowa Cremation is designed to help families, friends and individuals grieve in a healthy and healing way. Our Grief Resources page includes information on our exclusive GriefCare Line as well as a variety of web based resources.
The staff of Iowa Cremation works closely with many Allied Professionals and Caregivers who may be seeking out information for Iowans to assist with their final arrangements. We have created pages directed to these special caregivers that covers information on Serving Iowans and Caring Professionals and How We Can Help. Additionally, we offer outreach to professionals with our Staff Development and Training, and our annual Hospite program that is designed as a respite for professional Hospice caregivers.
Knowing the business that you are placing your trust in for cremation arrangements is very important and our About Us section covers details about the History of Iowa Cremation, Staff, and Facilities. Iowa Cremation has a sister company, Companions For Life, who assists pet parents across the state with professional and compassionate cremation services for beloved pets.
As always, we offer a wide variety of ways to receive information or to contact us. You can Request Information and receive the information e-mailed, or choose to Mail Me Information, or simply Download Information. We also offer a simple Contact Us form and as always, we can be reached at 1-888-87-3361.