Continuing and enduring legacy of professional and compassionate service to Iowans.
Iowa Cremation was founded in 1999 with the purpose of providing simple, dignified and professional cremation services to all of Iowa. But Iowa Cremation's roots stretch back to 1929, when Cedar Memorial Park Cemetery was founded and a legacy of compassionate care for both the living and dying began.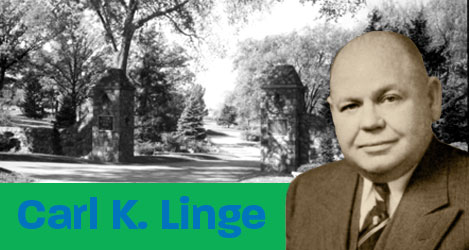 In the winter of 1929, Carl K. Linge purchased a tranquil farm along the main road that connected the two flourishing communities of Cedar Rapids and Marion. At that time, the two cities were separated by about 6 miles of countryside. Later that same year, he began building a new kind of cemetery called a "park plan". Instead of large stone monuments, it would feature enduring bronze memorials set flush with the ground
The cemetery continued to expand through the years adding the Chapel of Memories and the adjoining marble clad indoor mausoleum. Mr. Linge also constructed one of Iowa's first modern crematories in 1941 when the cremation rate in Iowa was less than 2% of all deaths. In 1954, a full-service flower shop was added to the grounds to better assist families with their floral tributes for their loved ones interred at the park.
In 1965, David E. Linge founded the Cedar Memorial Park Funeral Home, which was originally located at the former home of Carl and Ruby Linge on the cemetery grounds. A larger funeral home building was constructed in 1975 to better accommodate the number of families being served. David also developed new areas of the cemetery to offer new and unique ways for families to memorialize their loved ones.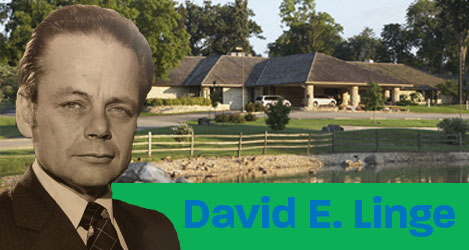 In 1996, the third generation of the Linge family, C. John Linge, began a new concept in preplanning by training specialized Counselors who assist families wishing to make their arrangements prior to the time of need. A job requirement was established where each Counselor must train and complete their certified preplanning consultant designation.
John has further overseen several expansions of the cemetery and mausoleum and the addition of The Family Center and Library, which provides a place for families to hold luncheons, receptions, and other gatherings. It also offers a library of grief resources that are made available to families.
In 1999, John founded Iowa Cremation as many Iowans were searching for a simple, dignified and affordable cremation and an alternative to the high costs of funeral services.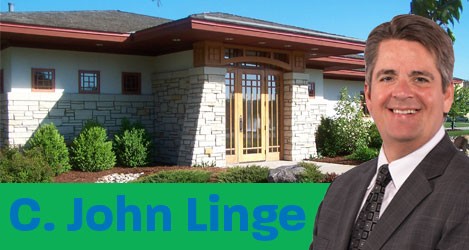 In 2001, The Cedar Cremation Center was constructed, and is nestled within Cedar Memorial Park Cemetery. The prairie style building, modeled after the style of Frank Lloyd Wright, is surrounded by grasses and flowers, cobbled waterways, ponds, and fountains. In addition to the state-of-the-art equipment, the Cedar Cremation Center has offered a place of calm and comfort for thousands of families selecting Iowa Cremation.
Our location in Central Iowa, Iowa Cremation – Waukee was developed and completed in 2016. In addition to providing time sensitive service to those in Central Iowa, this facility was designed and built as the most technologically advanced cremation facility in Iowa. When we began planning, careful thought went into the design of the building to continue our extraordinary service. More information about our two unique facilities can be found by visiting Facilities.
Companions for Life was formed in 2010 as a sister company to Iowa Cremation, and serves pet parents and veterinarians across Iowa with professional and compassionate cremation services for beloved companion animals. Both the Cedar Rapids and Waukee location feature dedicated cremation facilities for Companions for Life. For more information on Companions for Life, visit them at CompanionsForLife.com.