Our beautiful and state-of-the art facilities.
In addition to our caring and professional staff, Iowa Cremation has provided two specialized facilities to serve all of Iowa. Both of our cremation centers, located in Cedar Rapids and Waukee, have been specifically designed with top of the line equipment and with considerable focus on the comfort of our members and visitors. All aspects of the cremation processes, including the crematory operation, are overseen by Iowa Licensed Funeral Directors.
---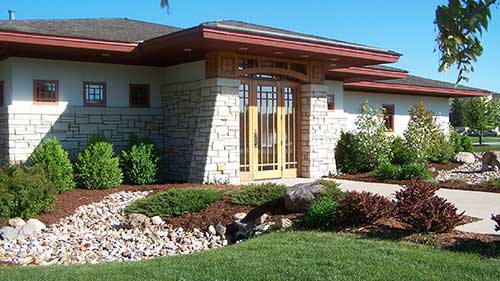 The Cedar Cremation Center
Nestled within Cedar Memorial Park Cemetery, the Cedar Cremation Center is unlike any other cremation facility in the Midwest. Surrounded by wildflowers and native grasses, cobbled waterways, ponds and fountains, this Frank Lloyd Wright inspired building was designed not only to provide technologically advanced cremation services, but also to provide a place of peace that comforts and inspires visitors.
The Cedar Cremation Center features a modern design that offers private rooms, where families may spend time with their loved one prior to the cremation. Additionally, the Cedar Cremation Center was designed with a dedicated suite within the building that comfortably allows those who may wish to witness the cremation for either religious reasons or peace of mind.
---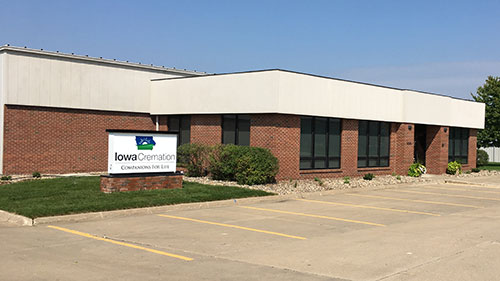 The Waukee Cremation Center
Our newest facility, The Waukee Cremation Center, was opened in 2016 and is conveniently located within 4 miles of I-80/I-35, on the western edge of the Des Moines metro area. Great care and attention to detail went into the design of this beautiful facility, in order to create a comfortable and soothing environment for the families Iowa Cremation is so honored to serve.
This unique building also offers dedicated and private rooms for families who wish to spend time with their loved one prior to the cremation. As with the Cedar Cremation Center, Iowa Cremation's Waukee facility offers families the ability to witness the cremation. This private, extraordinary facility welcomes visitors with its comfort and beauty.