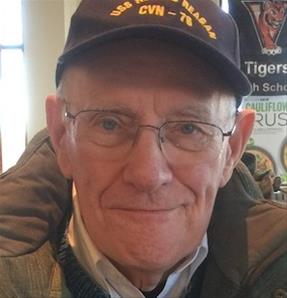 Born on:

October 18, 1928

Departed on:

September 28, 2021

Resided in:

Grimes , IA
Charles Eugene Weir
Charles "Chuck" Weir of Grimes, Iowa passed peacefully from this Earth on September 28,
2021. He was just 20 days short of his 93rd birthday.
Chuck was born on October 18, 1928, in Bloomington, Illinois, and was raised outside of
Morrison, Illinois, in a farmhouse that had no electricity. He helped farm the land using horses.
In his childhood, Chuck was called Gene, after his middle name, Eugene.
Chuck was a lifelong football fan. In high school, he was a star quarterback of the Morrison
Mustangs. He also played college football at the University of Dubuque and Northern Illinois
University, where he earned a BS in Education. Later in life he was a dedicated Iowa Hawkeye
fan.
Chuck was a veteran. He was proud of his service in the U.S. Marines. He went to boot camp in
Parris Island, South Carolina and became a Drill Sergeant. While in the Marines, he sailed on
the USS Coral Sea which took him to locations around the world, including Gibraltar and Cuba.
Later he spent 9 months as an embassy guard in Reykjavik, Iceland. He had a great
appreciation of that country. If you asked Chuck the temperature outside, he would look at his
phone and tell you, then he might also tell you the temperature in Reykjavik.
In college Chuck met Diane Weir (née Stephenson), who he married. Together they moved to
Morrison, Illinois where Diane and Chuck had two children, Karen and Robert. The family then
moved to West Des Moines, Iowa, where two daughters, Susan and Jennifer, were born.
During Chuck's work life, he was a salesman for insurance, printing, and envelope companies.
He was VP of Quality Control at Midcentral Plastics in West Des Moines, and at retirement age,
continued working part-time at several local businesses, including The Woodsmith Store and
Cigna. His last employer was Wal-Mart near his home in Grimes, where he worked until he was
91 years old. As a greeter, he made hundreds of friends, young and old. He had a smile for
everyone who walked through the door.
Chuck is survived by his four children Karen Weir-Jimerson (Doug Jimerson) of Eastpoint, FL,
Robert Weir (Carina Ahren) of Havertown, PA, Susan Weir of Davenport, IA, and Jennifer Weir
(Richard Kelley) of El Puerto de Santa Maria, Spain. Chuck had five grandchildren, Tristan
Jimerson (Lauren Van Schepen), Graham Jimerson, Oksana Weir, Isabel Weir, and Noah Weir.
His great-grandchild, Calvin Jimerson, was born this year.
He is preceded in death by his mother Ella Mae Pyse, his father Foster Charles Weir, and his
half-sister Harriet Redenbo.
Private services are planned.