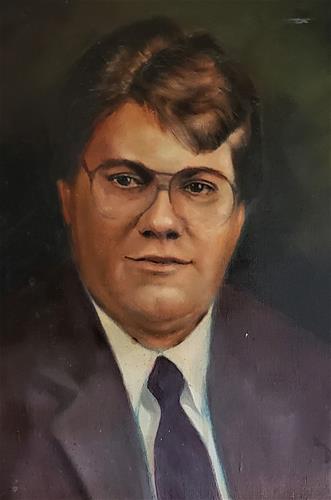 Born on:

November 8, 1959

Departed on:

May 18, 2020

Resided in:

Marshalltown, IA
Charles Franklin Shockley
Chuck (Charles Franklin) Shockley, 60, passed away May 18, 2020 under the care of St. Croix
Hospice at Grandview Heights Rehab and Healthcare in Marshalltown, IA. He was born
November 8, 1959 in Des Moines, IA to parents Audrey Beatrice Burnham Shockley and Robert
Harry Shockley.
He was schooled in Des Moines graduating from Lincoln High School in 1978. He attended
Grandview College (University) from 1978 - 1983 where he met his wife Evelyn Mae Moore.
They were wed on July 11, 1982.
He knew since he was twelve years old that broadcasting was his passion. While in college,
Chuck worked on the college radio station which aired over KDPS, and started his professional
career in 1979 at KDMI (Des Moines).
Over the next 40 years he worked at the following radio and media outlets:
- Des Moines, IA - KSO/KGGO, WHO, The JOCK, and Sports Lines of Iowa
- Ottumwa, IA - KBIZ
- Cedar Falls, IA - KCFI
- Redfield, SD - KQKD
- Algona, IA - KLGA
- Marshalltown, IA - KFJB/KIX 101.1
- Grinnell, IA - KGRN
Chuck received over a dozen AP or Iowa Broadcast News Association awards for his news or
sports feature reporting. As well as news, he did production, music air personality shifts, and
play-by-play.
In the Ames, IA Tribune, dated January 13, 2000, he was dubbed the Jack of all Mid-Iowa
Sports Trades . His career as a public address announcer began in high school. In the 1990's he
announced for the Iowa Barnstormers, Des Moines Menace, Iowa Cubs, Des Moines Dragons,
Des Moines Heat, Drake University, Roosevelt High School and Algona High School Basketball,
road races, and volleyball matches. He also was Master of Ceremonies at numerous
professional boxing events and wrestling matches. Most recently he announced for Grandview
University and the Blaze.
A memorial service will be scheduled and announced at a future date. Suggested memorial
donations are the American Cancer Society and the Salvation Army of Marshalltown, IA.
He is survived by his spouse, Evelyn Moore; sons, Benjamin ( Cynthia Morales), and Alex (Ailee
Velazquez); and brother, John (Tammy).
*The accompanying photograph is an oil painting done by Chuck's father, Bob.*