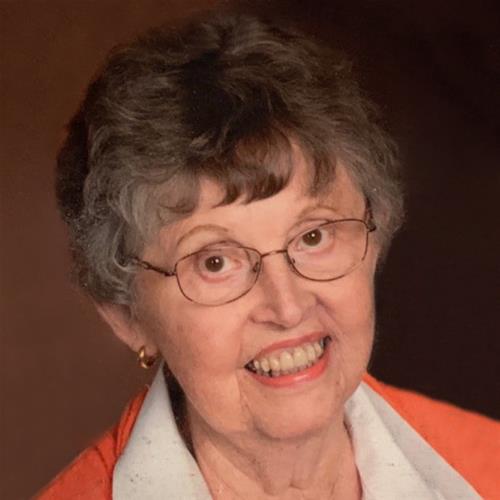 Born on:

December 5, 1936

Departed on:

February 3, 2020

Resided in:

Marion, IA
Barb Franklin
Mary Barbara "Barb" Franklin, 83, of Marion went to be with her Lord and Savior on Monday, February 3, 2020 at Mercy Hospital in Cedar Rapids, Iowa. A Celebration of Life Mass will be held at 10:30 a.m. Friday, February 14th at St. Joseph's Catholic Church in Marion. Family will greet friends from 9:00 to 10:30 a.m. at the church. Family burial service will be on Saturday, February 15th.

Barb was born on December 5, 1936 to Paul and Regina Nolan in Decorah, Iowa. She grew up in Cedar Rapids and graduated from Immaculate Conception High School in 1955. In 1956, she married her soul mate Richard Leroy Franklin in Cedar Rapids, Iowa and they were joined in love for 60 wonderful years. From that love; they grew their family by six children.

Barb was a treasure. She exuded Faith and Love in everything she did and everyone she came across was changed because of it. She was grateful for all her blessings and also found hope in all challenges. She was a member of St. Patrick's Church in Anamosa for 40 years and most recently St. Joseph's Catholic Church in Marion. She worked for many years as a Parish Worker at St. Patrick's.

Despite the challenges that life threw at her, she always had hope and trust in God to get her through. When her precious "Dick" left this earth, she started a gratitude journal, that day, as she was worried she may become bitter or depressed. She wanted to continue to find joy in each and every day.

She was the most gracious woman, who abundantly expressed her gratitude to God, family, friends, doctors, caretakers, and anyone who had given her help.

Barb loved the Lord with everything she had. She saw Jesus in everyone. She saw hope in everything. She trusted her Savior and she was genuinely THANKFUL, every day.

Barb's family was her world!! Those who cherish Barb's memory are her children Laurie (Kevin) Smith of Springville, Jeff (Kerry) Franklin of Oshkosh, WI, Tim (Kim) Franklin of Mitchellville, Rob (BJ) Franklin of Cedar Rapids and Katie (Jeff Pickel) of Martelle. Her grandchildren Hannah (Jake) Morey, Preston (Lindsay) Franklin, Nolan (Diane) Smith, Zach (Shannon) Franklin, Megan (Eric) Boyken, Nevin Smith, Morgan (Josh) Scholl, Ethan (Alyssa) Franklin, Brianna Pickel, Molly Franklin, Allie Franklin, Quinn Franklin, Emily (Troy) Hutchens, and great grandbabies: Ryland, Logan, Easton, Parker and Jamie. As well as her sister, Norma Karr, step-grandchildren, Marin Bisdorf and Malia Pothoff, and step-great grandchildren: Kadyn, Kendyl, Kinsley, Church and Carolina.

Barb was preceded in death by her parents, brother Thomas, and daughter Susan.

In lieu of flowers, memorials may be directed to the family.