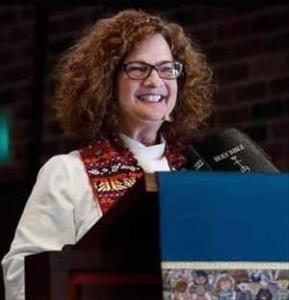 Born on:

August 11, 1952

Departed on:

October 26, 2018

Resided in:

Cedar Rapids, IA
Tommi Hay Boeder
Tommi Hay Boeder, 66, a 40+ year resident of Cedar Rapids, passed peacefully from this earthly life on October 26, 2018 in Cedar Rapids. A Celebration of Tommi's life and memorial service will be held Sunday November 4, 2018 at 2:00 PM at First Congregational United Church of Christ of Cedar Rapids.

Tommi was born on August 11, 1952 to William and Alice Hay in Oregon, IL. She was raised in Chana, IL and graduated from Oregon High School class of 1970 and Central College in 1974. Tommi had a varied, always GIVING, career path with Central College, Coe College, Teleconnect and McLeod Foundation, her own business of painting and wallpapering, and as Executive Director of Cedar Valley Habitat for Humanity 1996 to 2009. Along her life's paths, Tommi came to fully see how God was (is) working through her and graduated from Eden Theological Seminary (St. Louis, MO) with her Master's Degree in Divinity. Tommi was FINALLY ordained into Christian Ministry by the United Church of Christ on July 8, 2018. She served as Interim Pastor in Bennett, Clarence and, presently, Tipton, Iowa – all congregations which Tommi came to love, and they her.

Tommi loved the City of Cedar Rapids. She loved music, humming and singing, art and 'the arts'. She enjoyed walking, dancing, reading and her BOOKS. Tommi loved to laugh or, rather, snort. Tommi loved bright fabric and colors. Her favorite sounds were the laughter of children and church bells.

Tommi loved her family, her legion of friends and good food. And…Tommi loved God. Days before her passing, Tommi said, "I am the happiest I have EVER been!" She will forever be remembered for her way of living and loving FULLY. We, remaining, are happiest that she was, and is, a part of our lives ALWAYS.

Tommi is survived by her father Bill Hay (93) and Nancy, her stepmom and friend for nearly 52 years; sisters Diana Dillman and Grace Hay Neie; brother Bill Hay (Mindi); beloved nephews Andrew (Michelle) Dillman, Nick (Gayla) Maddern, Andrew Hay; nieces Juli (Tom) Melanson, Megan Hay; "Greats" Amber Maddern, Sean Dillman and Alexander Melanson; and her circle of friends (you know who you are).

She was preceded in death by her mother, Alice Hay; grandparents, George and Sophie ('Gram') Anderson; cherished family and friends not named; and her beloved Schnauzers – Murphy, Salty, Emma, Minnow and Tug.

Donations may be made in her name to the charities of your choice or hers: Habitat for Humanity and First Congregational UCC of Cedar Rapids.

A special thank you to all her local doctors and staff at UnityPoint St. Luke's.