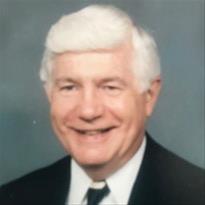 Born on:

October 19, 1930

Departed on:

November 14, 2018

Resided in:

Cedar Rapids, IA
Robert Lynn Swaney
Robert Lynn Swaney M.D., 88, died November 14, 2018, at home surrounded by his family. A memorial service will be held this Sunday at 4 pm at St. Paul's United Methodist Church. He was born on October 19, 1930, in Independence, Iowa, to Lois Johnson and Lynn Garland Swaney. The family moved to Cedar Rapids where Bob attended Polk, Arthur and Franklin Schools, graduating in January of 1949.

He attended Harvard University on an NROTC scholarship, where he ran cross-country and participated in many musical activities, graduating with an AB cum laude in Music in 1953. Following graduation he spent 3 years on active duty as a line officer on the U.S.S. Siboney.

When he left the Navy, he decided to go to medical school and returned to Iowa to take pre-med courses. During his time in Iowa City, his sister Sally introduced him to Ann Summerwill, and they were married on June 20, 1959. He graduated from the University of Iowa Medical School in 1962 and accepted a rotating internship with St. Luke's Hospital in Cedar Rapids. The family moved to Cedar Rapids where he was in a solo practice of family medicine from 1963 to 1969. He received his Board Certification in Family Practice and joined Family Practice Associates, where he spent the next 26 years, retiring in 1996. He once walked to the hospital in the middle of the night when a patient went into labor during a blizzard. During these years, the family grew to include Susan Lyn Swaney (1961) and David Lynn Swaney (1964.) He was a lifetime member of St. Paul's United Methodist Church.

Despite having survived a plane crash, encephalitis, three heart attacks and a stroke, he maintained an active and busy lifestyle. He served on numerous boards through the years: Family Service Agency, Hospital Council, Chamber of Commerce, St. Luke's Foundation (pres.), Cedar Rapids Symphony, and Tanager Place. Following retirement from his medical practice he was a volunteer at the free medical clinic. He was a member of the Linn County, Iowa, and American Medical Associations.

Bob thoroughly enjoyed his 3 grandchildren; Jake Woollen (26, a cellist and conductor) and David's twins, Samuel and Sylvia Swaney, age 6. He enjoyed golf, bridge, skiing, camping, and backpacking, often with his sister's family, in Keystone, Colorado. He and his wife loved to travel, especially to remote corners of the world. Most of all, Bob had a great knowledge and love for music. Through the years he played (with varying degrees of proficiency) piano, organ, oboe, viola de gamba, saxophone, and cello. He was a cellist in the Cedar Rapids Symphony for 50 years under all 5 conductors. After retirement he played tenor sax with the New Horizons Band, viola de gamba with a chamber group, and cello with a community orchestra. He also imparted his love of music to his family.

Survivors include his wife Ann, Cedar Rapids; his daughter Susan Swaney and husband Ian Woollen, Bloomington, IN; his son David Swaney, Cedar Rapids, and his grandchildren Jake Woollen, Vienna, and Samuel and Sylvia Swaney, Cedar Rapids; his sister and brother-in-law Sally and Dean Lund, Denver, CO; his brother and sister-in-law Dick and Joyce Summerwill, Iowa City; and numerous nieces and nephews.

In lieu of flowers, contributions may be made in his name to the Cedar Rapids Free Clinic or Orchestra Iowa.