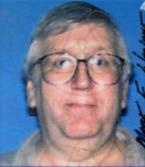 Born on:

June 3, 1952

Departed on:

January 19, 2007

Resided in:
John Perry Groves
---
We go all the way back to our days teaching at DMACC, long before our European experiences. It was an honor to be one of your friends. I will miss our technicial conversations and friendship. You will be remembered.
I hope you know how much I love and miss you....not a single day goes by that I don't think about you and how much this amazing child of mine carries on some of your great and talented qualities. You would be proud! I love you so much always and forever!
I last saw John in October, 2006. He still had that inquisitive look in his eyes that I remember so well. When we worked together at NW Bell in Des Moines in the late 1980's, that look meant just one thing to me as his boss; Oh, oh, start looking for some money and some cover for John from the executives above because John has an innovative idea that can't wait! He was a technology pioneer and I enjoyed every minute we worked together. Pioneers never get the credit they deserve and John is no exception in this respect. His contributions to implementing digital and Hybrid-Fiber-Coax networks around the world are appreciated only by the people who were fortunate to have worked with him. I am proud to say that I am one of those. As a Christian he was well aware that a better world awaited him with an end to the suffering of this earth. Rest well my friend John, rest well.
May God see you through this very difficult time in your lives. I am a friend of Amy's and haven't seen or heard from her in years. I was wondering if she was going to be here on Sat for the memorial. I am sorry for your loss. Deb
I knew John from United International Holdings and was honored to work with him in South America. We were roomates in Buenos Aires and John was always great to explore the city with in our off-hours. He was a wonderful friend and a most professional and talented colleague. God Bless you John and condolences to his family. -Chuck Correll
My condolences to John's family for the loss. John was a wonderful person and friend, with a great sense of family, as well as a great colleague during the time we worked together. I worked with John in London in the early 1990's, and as a young Engineer in a new environment, appreciated John's capability, guidance, and assistance from those days. My continued work there since our time together have lead me to understand not just the impact John had on me from those days, but from others I still see from those days, as well. To a person, the people I still see from those days in UK Cable still ask me about John, what he was doing, etc.. Although the news hasn't been positive on John's condition over the last few years, they would all wish the best for him, hope for a chance to see him again to reminisce, and then you'd see this smile develop on their face as they thought of John, and then go on to talk about their favorite John Groves memory from those days. All I can say is he has been and will be missed, but you in the family should know in his own way, he touched the lives of many in his days.
This message is for Katherine (Katy). We live in your old house and have found family pictures that belong to you. We send our deepest condolences to the family regarding the loss of your father. Please contact us if you would like to get your pictures. You and your family are in my prayers. Adrienne Windley
To the family of John, please accept my condolences. My last conversation with John, just a few weeks ago, was difficult and uncomfortable for him. In spite of that discomfort, John wanted to talk. We caught up a bit, sharing thoughts about the "good old days" as Bell people are wont to do. And we laughed as John, even in his situation, could not resist seeing things in a humorous light. John was a genuinely nice and generous person.
John, You were a great asset to both Northwestern Bell and U S West. Your Mom and Dad were always very proud of all you achieved... Mary Jo Collins Johnston,Iowa
Our sincere condolences to all of John Groves family.....I go to prepare a place for you. And if I go and prepare a place for you, I will come again, and receive you unto myself; that where I am, there ye may be also. -John 14:2b,3