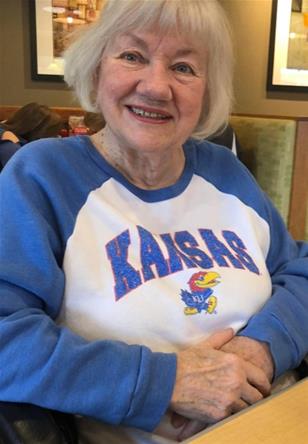 Born on:

May 25, 1942

Departed on:

March 30, 2023

Resided in:

Norwalk , IA
Ruth Colleen Williamson
Ruth Colleen (Briscoe) Williamson, age 80, passed away on March 30, 2023, of natural causes. Ruth was preceded in death by her husband, Thomas Wilson Williamson, father and mother Willis and Bernice Briscoe, and brother Ronnie Briscoe. Ruth is survived by her children, Stephen Lunsford (Lisa), Christopher Lunsford (Dawn), Scott Lunsford (Pamela), Bryan Williamson, Paul Williamson (Lorie), Amy Combs (Ward) and stepchildren, Thomas Williamson (Carol), Krista Williamson (Eve), and Greg Williamson (Lori). Ruth was loved by many grandchildren and great-grandchildren.
Ruth was born in Minneapolis, Minnesota, on May 25, 1942, although she would tell you she is from Topeka, KS, as she grew up there from the age of 1. Beyond her love to bake, cook and care for her large family, she enjoyed being active as well. One of her favorite places to be was the golf course with her trusty 5-wood she called "The Hunk of Cheese." She loved the simple things in life such as ringing in the New Year with her husband, Tom, and children by banging on pots and pans at the stroke of midnight. She was the KU Jayhawks #1 fan and was always watching the men's basketball team on television. Her favorite musical artist was Neil Diamond - she could be seen dancing anytime she could hear his music.
Her love for plants and gardening was a major part of her life through work at several different nurseries in Missouri and Oklahoma as well as her own gardens. Even after surviving brain cancer 24 years ago, she continued to provide advice to family and friends on how to care for plants, when to fertilize yards, which plants to grow in different places, and a host of other tips and tricks. Ruth also loved cats! In her later years, she could be found with her cat in her lap keeping her warm while napping or watching her beloved Jayhawks.
The family will have a private event later this year to celebrate Ruth's life and spread her ashes in Tulsa, OK. In lieu of flowers, the family requests donations be made to Tiny Paws Kitten Rescue in Stillwater, Oklahoma, where she adopted her beloved cat, Roxey. Online donations can be made by visiting their website at www.tinypawsok.org and clicking on the "donate" button. Please make a comment that your donation is in memory of Ruth Williamson. Checks can also be mailed to 901 S Lowry Street, Stillwater, OK 74074.