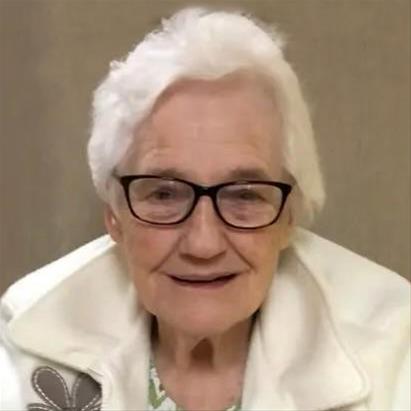 Born on:

June 2, 1933

Departed on:

March 20, 2023

Resided in:

Lansing, IA
Isabelle Dorothy Hawes
Isabelle Dorothy (Walleser) Hawes (89) of Lansing, IA, died peacefully Monday, March 20, 2023, at Thornton Manor surrounded by her family.
Isabelle Dorothy Walleser was born June 2, 1933 in Guttenberg, Iowa. She was the eleventh child born to Joe and Etta (Berns) Walleser. She married Leo (Bud) Hawes on September 6, 1954. They purchased the family farm in rural Wexford, were they lived for over 40 years and raised their 8 children. They milked cows for a few years but she spent many of those years rising chicken, farrow pigs and working the land, alongside Bud and her children. She loved to cook and bake, her vegetable pizza, Coca Cola bars; Sour cream raisin bars, pecan tassies, pie and pecan logs were a favorite among her grandchildren. So much so, that they would always ask for her recipes and then state, "grandma, it never turns out like yours, did you put something different in them?" She loved gardening, sewing, painting, drawing, bowling, bingo, and spending time with family & friends. Isabelle especially enjoyed spending Friday night's on her front porch in Lansing with Bud, her children, grandchildren, and who ever stopped by, it was well known that her door was always open on Friday nights.

Isabelle is survived by her loving husband of 69 years, Leo A. (Bud) Hawes, and six children Richard Hawes of Alma, WI., Lea Ann (Donald) Peters of Lansing, IA., Steve (Shirley) Hawes of Harpers Ferry, IA., Jeff (Rebecca) Hawes of Waukon, IA., David (Julie) Hawes, and Debra (Brian) Benzing of Lansing, IA. She is survived by 23 grandchildren, and 25 great grandchildren, three sisters, Alice Griffin, Wilhelmine (Willi) Finkral and Phyllis Kimsey, (sister in-laws) Alice Wood, Patricia (Jack) Darling, Mona Mullarkey, Maxine Hawes, and Joan Walleser, Brother in-law, Jack Darling and numerous nieces and nephews.

She was preceded in death by a daughter and a son, Mary Kay (Scott) Geers and Scott Hawes. Her parents, Joe and Etta Walleser, Buds parents, Leo and Catherine (Manton) Hawes, (brothers) Stanley, Francis (Chip), Lawrence (Duke), Louie, Bill and Ed Walleser, and (sisters) Helen Freiburger and Colleen Brown and brother-in laws, Bill and Robert Hawes, Ray Wood, Charlie Corrigan, John Freiburger, Delmar Brown and Carl Mullarkey and (sister in-laws) Eleanor Corrigan, Dottie Hawes, Velma, Mildred, Esther, Bernice and Delores Walleser.
She was a beloved wife, mother, grandmother, great-grandmother, sister-in-law, aunt and sister. The family would like to extend their sincere appreciation to the Thornton Manor staff especially the CNA's and Nurses that took such great care of her the last four years. The family would also like to thank Father Joseph Sevcik for celebrating the mass and Iowa Cremation for assisting the family with arrangements.

Visitation will be held at Immaculate Conception Church Lansing on Friday, March 31 from 4 to 7 p.m. Funeral services will be Saturday, April 1st at 11:00 a.m. with visitation from 9:45 a.m. to 10:45 a.m. Burial inurnment will follow the mass at Gethsemane Cemetery, Lansing.