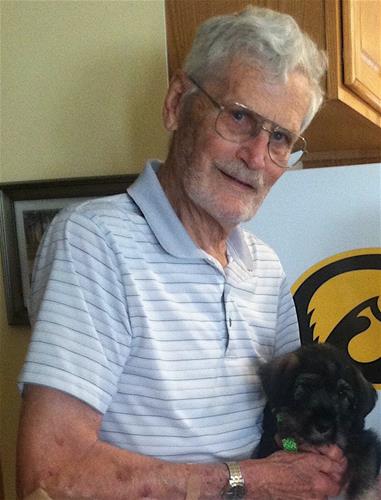 Born on:

November 17, 1930

Departed on:

May 30, 2022

Resided in:

Greene, IA
Lester Corwin Johnson
Lester Corwin Johnson passed away on May 30, 2022 in Greene, Iowa. He was born on November 17, 1930, in Albert City, Iowa, the only child of Lester H. and Mable A. (Hedman) Johnson. Les was baptized in February 1931 in the Ljughed Lutheran Church, later renamed Our Saviors, in Albert City. Les became a confirmed member of Our Saviors Lutheran Church in May 1945.
Les attended school in Albert City, graduating in 1948. During his high school days, Les participated in all athletic programs, culminating with being a member of the state championship mile relay team in 1948. Following graduation, Les enrolled at the University of Iowa, attending until entering the U.S. Air Force in January 1951. During his military service Les was a flight engineer on cargo aircraft. He was stationed at Haneda Air Force Base in Tokyo, Japan during the Korean War. He was later stationed at Dover Air Force Base in Delaware until his discharge in January 1955. Les then enrolled again at the University of Iowa and graduated with a BSC degree from the College of Commerce in January 1956.
During his time at the University of Iowa, Les met Margaret Ann Bathke and they were married in Iowa City on October 27, 1956. Following their marriage, the couple, after a brief time living in Fairmont, Minnesota, working for D-X, they moved to Los Angeles, California, where Les was employed by Douglas Aircraft in El Segundo, California. While in California, their two children, Leslie and Rob were born.
In September 1960, the family came back to Iowa, moving to Iowa City where Les enrolled in the College of Law. He was selected to write for the Iowa Law Review and served as a student clerk for Willard Boyd, who was later named President of the University of Iowa. Les graduated with a JD degree from Iowa in June 1963. Following graduation and passing the Iowa Bar Examination, Les and his family moved to Newton, Iowa, where he practiced law in the Selby, Updegraff Law Firm.
In 1970, an opportunity to buy into a law practice arose in Clarion, Iowa, and Les joined Leslie Archerd, where he had a general law practice until 1983. In 1983, with Leslie and Rob in San Diego, California, Les and Margaret returned to Southern California, moving to Palm Springs, California, where he practiced in an estate planning law firm for several years. In the late 1980s, they moved again to Lakeside, California, in the San Diego area, where Les kept with his general practice until he retired in November 1995. Les and Margaret continued to live in the San Diego area until September 2000, where they moved to Greene, Iowa, where they continued to reside.
Over the years, Les established a collection of antique clocks and did become able to repair the clocks as necessary. He also became involved in model railroads and built an extensive model railroad in the basement of their home. He was an avid fan of the Iowa Hawkeyes and he had season tickets for a number of years to support the Hawks, spending many memorable Saturdays in Iowa City with his family. Les began golfing when in high school and continued to play until recent years.
Les was proud of his service in the Air Force and as a member of the Veterans of Foreign Wars in San Diego and Tack Barnett Legion in Greene, where he served as Commander for a number of years, and an active participant in Veterans Day programs at North Butler High School. He also served on the Greene City Council. Additionally, Les was President of the St. Peter Lutheran Church council and served in a similar capacity in other Lutheran churches where he and Margaret were members.
Les and Margaret enjoyed traveling and over the years they visited every state except Alaska. Additionally, they made six visits to Europe where they toured eleven European countries. They also went to Australia with Rob to visit Leslie, who was there as an exchange student during her high school years.
The family vacationed many years at Gull Lake, in the Nisswa, Minnesota area, staying in a family-owned lakeshore resort, and continued seeing that family for many years after the resort closed.
Les is survived by his wife, Margaret, his daughter, Leslie, son, Rob and his wife, Mary, and granddaughters, Sarah and Hannah. Les was predeceased by his parents.
Services will be held Saturday, June 25 at St. Peter Lutheran Church in Greene, Iowa. A visitation will be held that morning at 9:30 AM, with the service following at 10:30 AM.
In lieu of flowers, a donation to St. Peter Lutheran Church in Greene, Iowa can be made.
Condolences may be left directly to the Johnson family by visiting www.IowaCremation.com under Obituaries.