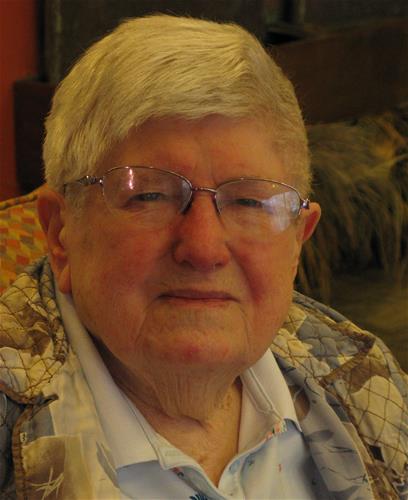 Born on:

November 23, 1926

Departed on:

April 15, 2022

Resided in:

Emmetsburg, IA
Glenys Vivien Duis
Glenys Duis, formerly of Emmetsburg, died peacefully Friday, April 15th, at Iowa Methodist Medical Center in Des Moines following a brief illness.
Glenys Vivien Rawston was born 95 years ago in Lowestoft, England. She often said World War II took away all her "growing up" years, as Lowestoft was on the direct flight path for Nazi bombers heading inland. It also meant she met and married Ed Duis, a GI from Emmetsburg, who was stationed nearby at Seething Airfield with the U.S. 8th Army/Air Force. She and baby daughter Shirley docked in New York City on the Queen Mary in 1946 and rejoined Ed at Fort Dodge, Iowa that Easter. At Easter of 2022, she finally departed on her last voyage.
Knowing absolutely nothing about farm life, she plunged in with her usual determination—reading seed corn labels, Wallace's Farmer, mastering tractors and milking cows. Her family in England were utterly mystified by the phrase "Walking the beans"! When Ed was killed in a farm accident in 1998, she moved from the farm into Emmetsburg and immersed herself in card games, St. Paul's Lutheran Church, and volunteering at the Lost Island Nature Center. Her outgoing personality thrived on being around people. When notified of her death, her brother, Terry, recalled that "She genuinely liked other people. When I was a little boy, she filled my life."
Glenys is survived by her daughter, Shirley Petersen of Ankeny, Iowa and her brother, Terry Rawston of Lowestoft, England. She was preceded in death by her husband, Ed Duis, and two siblings, Ted Rawston and Ione Ellis, in England.
Memorial services will be held Saturday, May 14 at St. Paul Lutheran Church in Emmetsburg, Iowa. Condolences may be left directly to the family by visiting www.IowaCremation.com under Obituaries.