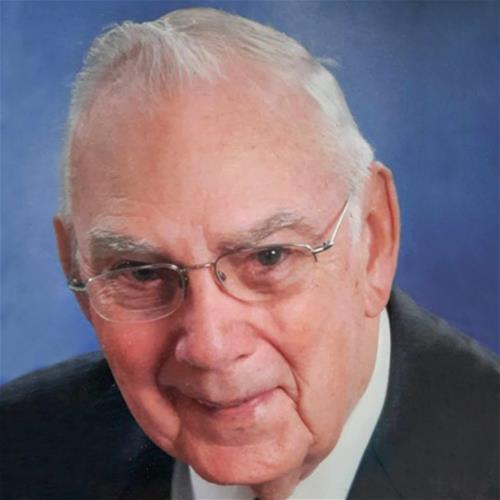 Born on:

February 22, 1930

Departed on:

April 26, 2022

Resided in:

Albert Lea, MN
Ernest William "Bill" Webster
Ernest William "Bill" Webster passed away on April 26, 2022 at St. John's Lutheran Community on Fountain Lake in Albert Lea, MN. He was born February 22, 1930 to L. C. "Bud" and Doris (Cowern) Webster.
Bill graduated from North Saint Paul High School and attended Macalester College prior to enlisting in the United States Air Force. After completing flight school, he married his "Georgia Peach", Myra McCorkle in 1953. He was an Air Force pilot, 2nd Lieutenant, who flew missions during the Korean War and was honorably discharged after his flying career was cut short due to a knee injury. Returning to his boyhood home in Minnesota with his wife and newborn son, (Stephen), he began his civilian life work as a salesman for Rowell Laboratories. After a short stint selling life insurance, he joined the banking industry, where he spent the remainder of his working life. Bill worked in banks from St. Paul and Austin, MN, to Bozeman and Billings, MT. He eventually retired from banking in Waverly, IA.
Bill was an active Mason, belonging to lodges from Taegu, Korea, where he was a founding member with other Air Force Masons. He was a Mason in Minnesota, Montana, and Iowa (where he was Grand Lodge Treasurer). Bill was also an active member of churches everywhere his family lived (church council, Christian education, treasurer). He also served as a member of City Council in Waverly, IA, and participated in a wide variety of service organizations. Bill spent his free time cross-stitching where he was a multi-purple ribbon winner at the local county fair.
Bill was preceded in death by his loving wife, Myra, of 65 years; his son, Kevin; and his brother, Mike. Survivors include his siblings: Leslie, Meredith (Bill), and Winifred; and his children: Stephen (Debbe), Barbara (Mark) Stapleton, Kathy Ludtke, Craig (Terrie), and daughter-in-law, Kim Webster Cash. He is also survived by his grandchildren: Ryan, Jessica, Julia, Jeffrey, Jason, Brent, Brianna, Brooke, Madison, and Mason. Along with 10 great grandchildren and one on the way.
In accordance with his wishes, Bill has been cremated and a memorial service will be held on Saturday, June 25, 2022, at 11:00am, Trinity Lutheran Church, 501 S. Washington Ave., Albert Lea, MN. A visitation will be held one hour before the service.
Memorials may be directed to Masonic Lodge #26, 147 N Broadway Ave., Albert Lea, MN 56007; or Trinity Lutheran Church, 501 S Washington Ave., Albert Lea, MN 56007.