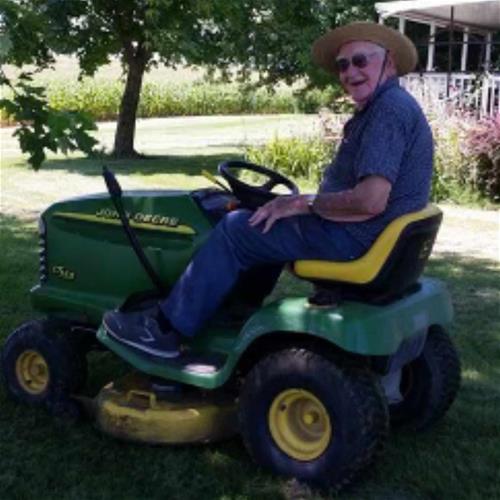 Born on:

October 8, 1927

Departed on:

September 5, 2021

Resided in:

Leon, IA
James Leo Arndorfer
James Leo Arndorfer, 93, passed away on September 5, 2021, at the Westview Care Center Nursing home in Leon, Iowa. He was born on October 8, 1927, to Mary Ellen (Pieper) and Edward Francis Arndorfer, in Akron, Colorado, the second of eight children. In 1930 the family moved from Akron to Iowa. Jim grew up on the farm near Galt, Iowa and attended school there until high school when he went to Clarion.

Jim served in WWII, drafted in 1946 in the Army Air Force, as it was called at that time. He did his schooling at Keesler Field at Biloxi, MS and spent most of his time in the Philippines. Jim was with the 44th Fighter Squadron, 18th Fighter Group. He was the Company Clerk for the Company Commander and flew with him regularly. He relayed that on the way back from the Philippines they ran into a typhoon. He was one of only a few who didn't get sea sickness and spent his time working on chores the others could not do. He was honorably discharged in April 1947 and returned to farming, his life's passion.

On August 16, 1952, Jim married Gladys Mossman at St. John's Catholic Church at Clarion. They lived for a short time just north of Galt, then moved into a new house on his parents' home place near Galt. Jim and Gladys then began their family, with their first child, Linda, being born on July 11, 1953, followed by Pat on June 9, 1955. The family then bought a farm south of Clarion in 1958. Son, Bob was born on February 5, 1959. After many years there, they sold that farm and bought a farm near Humeston, Iowa, moving there in March 1977. They lived on that farm until they built a new home near there and Bob moved to that home place while farming with Jim. They lived there for several years, until they moved to assisted living at Leon, then into the nursing home.

Jim was a member of St. Brendan's Catholic Church and was a long-time member of the Knights of Columbus, where he was a Fourth Degree Knight. He and Gladys traveled to southern Texas many winters and lived there for six months of the year in later years. They danced together beautifully from their courting days until their old age. They loved to travel and once went on an extended trip to Alaska where they explored that state with a brother and wife, both in their pickup campers. They traveled to many states and visited many relatives. Jim especially loved Colorado and they made many trips there, exploring a different route each time. Jim and Gladys also loved fishing and went on many trips, trying to catch "the big one" and bringing home their catch to enjoy later.

Jim loved his family and was happiest when surrounded by his grandchildren and great-grandchildren. He delighted in holding and hugging the children, giving vigorous whisker rubs, until their cheeks were rosy.

Jim is survived by his wife, Gladys Arlene, Leon, IA; daughters Linda (John) Vilmain, Boone, IA, Patricia "Pat" (David) Hummel, Batavia, IL, and son Robert (Bob) (Marilyn) Arndorfer, Humeston, IA; ten grandchildren, Renae (Joe) Poush, Humeston, IA, Rebecca (Rodrigo) Mireles, Minooka, IL, Dawn Clanton, Batavia IL, Rachel (Andy) Graham, Humeston IA, Nicholas (fiancé, Emily) Vilmain, Dallas, TX, Ryan (Amy) Arndorfer, Boone, IA, Juan Vilmain, Johnston, IA, Ana Jones, Boone, IA, Jamie Hummel, Westmont, IL, Tyler Hummel, Aurora, IL; 15 great-grandchildren; siblings Clarence (Joyce) Arndorfer, Rosemary (John) Laliberte, Ken (Margaret) Arndorfer and Roger (Kaye) Arndorfer, as well as many relatives and friends.

Jim was preceded in death by his parents, Ellen and Ed; a sister Norma; two brothers, Francis and John, and one grandson Bobby Arndorfer.

Services will be held at St. Brendan's Catholic Church in Leon on Friday, October 8, 2021. This would have been Jim's 94th birthday. A rosary will be that morning at 9:00 AM, Visitation 9:30-11:00 AM, Funeral Mass at 11:00 AM with a luncheon following. A private burial will be held afterwards at the Arndorfer cemetery. Memorials may be made to the Humeston swimming pool or to St. Brendan's Catholic Church.