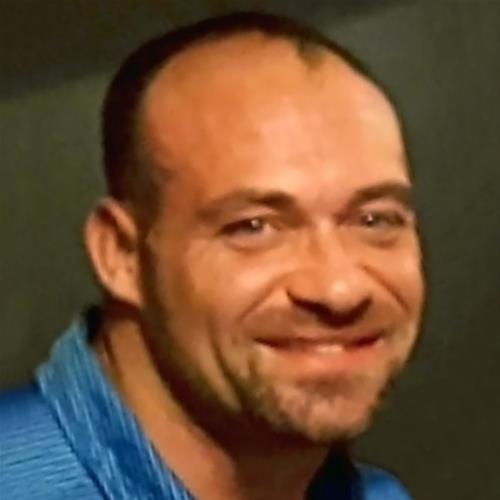 Born on:

August 19, 1982

Departed on:

November 17, 2021

Resided in:

Cedar Rapids, IA
Mathew "Matt" James Hobmeier
Mathew "Matt" James Hobmeier, 39, of Cedar Rapids, passed away on November 17, 2021 at his residence. Celebration of Life will be at the Veteran's Memorial Building - 51 1st Ave Bridge Fourth Floor, Cedar Rapids, IA 52401 on Tuesday, November 23, 2021 from 5:00 - 7:30 pm.
Mathew was born August 19, 1982 in Des Moines, Iowa to Rich Hobmeier and Peggy (Pershing) Sharr. Mathew grew up in Fairfield, Iowa where he was an accomplished athlete, and had many friends who loved his infectious charisma. He was a gifted baseball player, hitting the first-ever home run out of the park for a ten year old in the history of Fairfield baseball league. He served 3 years in the Navy where he became passionate about power lifting and after discharge, he became a successful power lifter lifting 804 pounds in one of his competitions. He lived in Des Moines for years and developed a successful personal training business. He then moved to Coralville, IA to be closer to his mother, Peggy and step-father, Steve Niemela, where he met his best friend and love of his life, Ingrid. He relocated to Cedar Rapids, IA to live his life with Ingrid and large loveable dogs. Their journey together began in December of 2010 and on June 17, 2018 in Cedar Rapids, IA, Mathew and Ingrid Lacayo were united in marriage.
Mathew's true passion was bodybuilding, for which he won multiple competitions including Mister Iowa. He adored dogs and was a good Papa to his fur babies, always making sure they had the best of everything. Mathew was funny, bigger than life, generous and always willing to help. Those close to him knew his big heartedness and big loving funny side. He knew how to love big, live hard, laugh loud, enjoy food, and push himself to physical challenges few others would even attempt. His beautiful smile and loving eyes made everyone feel like family and if you were lucky enough to get one of his strong and gentle embracing hugs, then it would really make your day!
Mathew is survived by his wife, Ingrid Hobmeier; mother, Peggy Sharr; siblings, Joshua Hobmeier, Mandy Hobmeier, Jeremy Hobmeier, Jason Hobmeier, Cassandra Muse, and Johnny Crees Fischetti; and fur babies, Reyna and Kobe.
He was preceded in death by his father, Rich Hobmeier.
In Lieu of flowers/gifts, donations may be made in Mathew's memory to Last Hope Animal Rescue by visiting
https://adopthope.org/donate
.