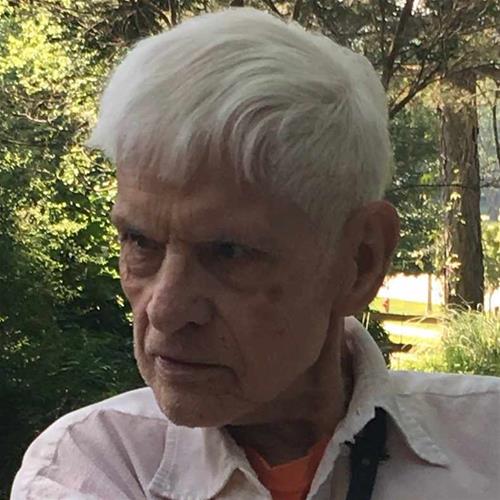 Born on:

May 18, 1927

Departed on:

November 11, 2021

Resided in:

Iowa City, IA
Harlan Lewis Sifford
Artist, Librarian, Veteran. Harlan Sifford died, at the age of 94 November 11, 2021.
Harlan was born in Bottentourte County Virginia, the 4th of 5 Children, to Lewis and Halle (Stevens) Sifford. Harlan's mother was a farm wife, his father a farmer who also had a general store. Halle kept their home as a boarding house. He remembered growing up in the Blue Ridge Mountains of Virginia during the depression simply wanting to be anywhere else. World War II took him from his first year in College at Lynchburg, Virginia to the deep south for boot camp to be trained for the infantry, back north to New Jersey, and subsequently to serve on a boat that went from New York harbor to Bremerhaven Germany and back bringing dependents on board.
After the war, Harlan continued his education at Lynchburg, and then to the University of Georgia for his Master of Fine Arts in 1953, subsequently teaching art at a small college nearby. On to Champagne-Urbana in the 60s where he studied library science and received his MLS. Here he lived with the dancer Willis Ward who mounted a dance troupe that performed in the Salt Lake region and parts West.
He was recruited by The University of Iowa to become the Art Librarian at The School of Art and Art History. Seiberling assigned him into work with the Elliots, the result of which was the First Silver exhibition and catalog for the Museum of Art.
In 1972 he met Steven Warner. They spent the next 49 years enjoying the world together. In 2010 Cat adopted them and took over the household. In 2012 they married, more than likely because Cat felt it was best.
Harlan was preceded in death by his parents, his brothers Jim and Maynard, sisters Eunice and Julia and his dear niece Sara.
A celebration of life is will be held in the spring of 2022.
If you want to contribute to expenses and a memorial, you may do so by following this link: https://bit.ly/harlansifford
Or contact Steven at warner.steven@me.com
Or make a contribution to Iowa city Hospice or the Iowa city animal center.