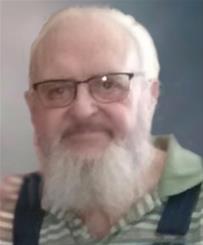 Born on:

July 20, 1942

Departed on:

May 1, 2021

Resided in:

Lorimor, IA
Orval Wayne Barr
Orval Wayne Barr, 78, of Lorimor, passed from this life onto his heavenly home on May 1st, 2021.
Wayne was born July 20, 1942 in Knoxville, Iowa to Delbert and Daisy (Mohler) Barr. The family moved to rural Madison County and Wayne attended Winterset Schools. Wayne was active in 4-H and FFA. He was proud to have played football for the Huskies and was on the Undefeated team in 1959.

While in High School, Wayne met the love of his life and in 1960, he and Gayla Luke were wed. The couple celebrated their 60th anniversary this past summer.

Wayne spent most of his life engaged in farming and raising livestock. After retiring from farming in 1983, he hauled livestock and worked for 15 years as a custodian for the Winterset High School.

Wayne was an avid fisherman and spent every spare moment at a local lake or pond.

In his later years, Wayne loved to create toys and yard ornaments in his woodshop. He loved making gifts for family and friends. Wayne had a special affinity for horse drawn wagons and stagecoaches. He spent many hours building lifelike replicas that included handmade miniature harness and equipment.

Wayne was preceded in death by his parents, son Ronald, Sister-in-law Barb Luke and niece Angela Luke.

Wayne is survived by his devoted wife Gayla. He is also survived by sons Lonny and wife Rhonda, Tom and wife Darla all of Whitesboro Texas. Grandchildren Bill Hatten and wife Jill, Antionette Clairmont-Barr, Casey Mar and Husband Christian, and 7 Great Grandchildren. Wayne always considered his cousin Mel Mohler as more of a Brother than a cousin.
He is also survived by Brothers-in-law Darrell Luke and Dan Luke, Sister-in-law Karla Hansen and husband Denny, as well as many nieces and nephews.

If you were in Wayne's life, you were family. He was called "Grandpa" by many. Luther and Chantell Penland and family held a special place in his heart.

While the family grieves the loss of our beloved, we are comforted in knowing that Wayne is in the presence of his Lord and Savior. He now walks the streets of gold without pain.

The family will hold a private memorial service at a later date.