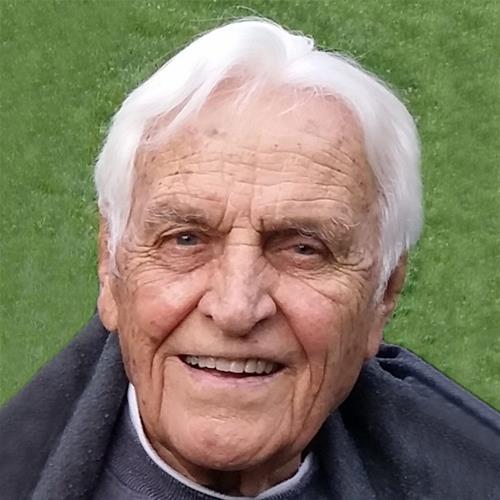 Born on:

February 12, 1923

Departed on:

January 23, 2021

Resided in:

Coralville, IA
Lloyd Johansen
Lloyd Johansen, or 'Papa Joe' to his family, went peacefully home to the Lord on Jan 23, 2021.

He was born on Feb 12, 1923 to John and Nora Johansen on their farm in Latimer, Iowa. He met the love of his life, Jean Clausen at Dana College, and was blessed to share 75 years of marriage with her. He fought in World War II in Europe for 3 years, during which he and Jean wrote each other daily letters. Lloyd picked up multiple unique skills and experiences during that time including becoming the barber for his battalion.

He worked as a teacher and principal in Racine, WI and spent the summers living with his family in the tent colony in Madison while getting his master's degree where he often waterskied across the lake to his classes. He and his family then moved to Denver, CO where he became the president of Educational Consulting Associates. In addition to letting him share his experience and passion for education this also allowed him to travel extensively and see the world. When he retired, he moved to Iowa City, IA to be closer to his family and was able to enjoy 30 years with them. During that time, he was an active member of Parkview Church, where he continued to live out his faith in his Savior Jesus Christ.

Lloyd and Jean also spent many years traveling to Manzanillo, Mexico. While there they met some wonderful friends and as always found ways to serve the Lord, including starting a "Palapa Church" for their fellow snowbirds that met under a palapa by the ocean and is still running today. Lloyd was a talented athlete who loved all types of sports, travel and most of all meeting and connecting with people -which he did all the time, whether traveling, at Church, or just going out for breakfast. He will be greatly missed by his family and the many other people whose lives he touched.

Lloyd is survived by his children Jann (Lanny) Kampfe of Iowa City, Judd Johansen of Coralville, grandchildren Kevin (Tammy) Kampfe of Hugo, MN, Katelyn (Thad) Lane of Coralville, great grandchildren Kaylie, Caleb and Eli Kampfe and Jeremiah, Matthias and Joanna Lane.

He is preceded in death by his parents, and the love of his life, Nora.