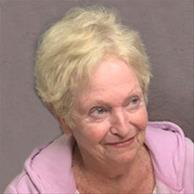 Born on:

February 21, 1939

Departed on:

January 14, 2021

Resided in:

Cedar Rapids, IA
Judy Thenhaus
Judy Thenhaus, 81, of Cedar Rapids, passed away Thursday, January 14, 2021 at St Luke's Hospital, Cedar Rapids, Iowa. No services are planned at this time.

She is survived by husband, Ron, daughters, Jenny(Tim) Vellinga, Tami(Howie) Vernon, and Jill(Ernie) Rosales, eight grandchildren, eight great grandchildren, two great great grandchildren, one sister Barb(Arlen)Gerhold and Charlie her Cavalier puppy.

She was preceded in death by her parents and two brothers, Edward and Ronald Sandler.

Judy (Sandler) Thenhaus was born February 21, 1939 to Edward and Phyllis Sandler in Cedar Rapids, Iowa. She graduated from Franklin High School in Cedar Rapids in 1956. She met and married Ronald Thenhaus in 1957. She spent her early life as a loving stay at home Mom with her children. She entered the workforce with St Luke's Hospital for over 25 years; first as a house Mom for the School of Nursing and later a secretary for the human resources department. Of all her endeavors in life, Judy loved being with her family and will be greatly missed by all that knew her, to know her was to love her.

The Family wishes to extend special thanks to all the staff at St Luke's Hospital for the above and beyond care of Judy over the past few weeks.

In lieu of flowers, memorial donations may be directed to St Luke's Inpatient Hospice.