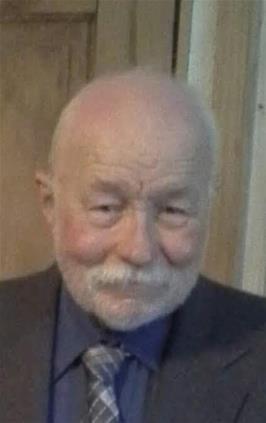 Born on:

January 24, 1936

Departed on:

January 13, 2021

Resided in:

Oskaloosa, IA
James Edgar Cameron
James "Edgar" Cameron, of Oskaloosa, IA, passed away, at his daughter's home in Pleasantville, IA, January 13 2021, just 11 days before his 85th birthday. It was his wish to be cremated. Graveside service at Forest Cemetery, Oskaloosa, IA will be held at a later date.
Edgar was born to James Edward "Guy" Cameron and Gertrude Edgar Dixon, in Oskaloosa, IA. His mother owned and operated the Dixon coal company just south Oskaloosa, where his father worked. They owned several rental properties around town, including her family home on C Ave East, where the YMCA now sits.
When Edgar was two, the coal mine caught fire and was sealed up. His parents sold all their properties, except for the family home, and moved to 80-acres west of Barnes city, IA, where he attended a one room school house west of town.
At the age of six his father passed away leaving Edgar and his mother to operate the family farm and a few rental properties.
Edgar started working off the farm for a tiler man at the age of 14 with just an old tile spade, by the time he was 17, he bought his first tiling machine and started up J.E. excavating company, later changed to Cameron construction company. When he was 28, his mother passed away leaving a huge hole in his life. Later he added a dozer, scraper, backhoe. In between jobs he worked at whatever he could to make money to fill in the gaps: drove semi, did adventure tours, worked on the Red Rock Dam project, tore down houses and worked in a junk yard.
In 1966 he sold the 80 acres, moved to the property at C Ave East where he lived for a short time. He sold that property and purchased a farm southwest of Beacon, IA where he lived until recently until ill health prevented him living alone.
From childhood through the rest of his life, he had a love of anything and everything automotive, with steam trains being his favorite. Every year he attended the Old Thrashers Reunion in Mount Pleasant, IA. He loved building engines, working on race cars (and racing them), tractors, planes and trucks. Because they didn't have much money, it started his love of junking and making something out of nothing. He held onto everything just in case.
His next love was History. He was a wealth of information on Mahaska county and Oskaloosa, about all the coal mines and how the street got laid out in the town. On his mother's side were some of the first people to settle in Oskaloosa, to his great-grandfather working to help build the first court house, to the Dixon Coal company.
Edgar didn't know a stranger. He was a natural born story teller and if you stayed around very long, he would strike up a conversation. From then on you were his friend, and if you stayed long enough you would hear all about the stories of the old Crown Imperial car that he raced around the county in his teens. You would also hear about his bootlegging days and outrunning the police in that old car.
Edgar was married twice:
Pauline June Rutherford Dec 8, 1963 - 1967. Two daughters were born to this union:
Irene Maria Sumner, Cadwell, GA.
Teresa Kay Crosby, Des Moines, IA.
Beulah Ann Shipman May 18th 1969: Three children were born to this union:
Julie Ann Rust (Eddie) Pleastantville, IA
Kimberly Lynn Daniels (Christopher) Monroe, IA
James Edgar "Eddie" Cameron (Darcy Langstraat) Monroe, IA.
He will also be Greatly missed by his 10 grandchildren and four great-grandchildren. Five step grandchildren and 16 step great-grandchildren.
He was preceded in death by his wife of 46 years, his parents, two half-brothers, Kenneth Lyle Cameron and James "Jim" Cameron, niece Phyllis Fryer, nephew Kenneth Cameron, three brothers-in-law and a sister- in-law.
He is survived by his children, a niece Shirley Boomershine, a nephew Michael Cameron and many great nieces and nephews.
In Liew of flowers, donations may be made in his memory to the Audubon society, plant a tree or to any charitable group you choose.
Graveside service at Forest Cemetery, Oskaloosa, IA will be held at a later date. Lunch provided following the service.