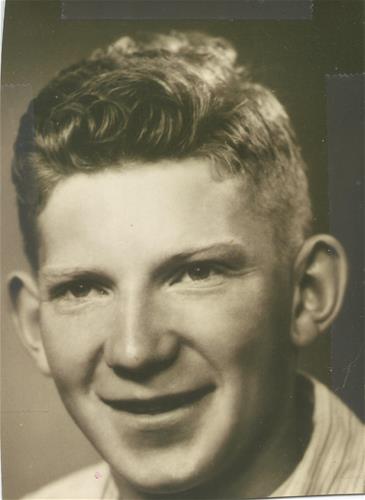 Born on:

March 19, 1931

Departed on:

January 13, 2021

Resided in:

Neveda, IA
Donald Eugene Weyant
Donald Eugene Weyant, 89, of Nevada, Iowa, passed away peacefully on Wednesday, January 13, 2021.
Don was born on March 19, 1931 in Edgewood, Iowa to George and Lulu (Nading) Weyant. He lived in Edgewood until he was sixteen, leaving for Cody, Wyoming in search of new adventures with his cousin, Bud Nading. He worked as a mechanic for Ford Motor Company in Cody until he was drafted into the Army in February 1952. He served his country faithfully for two years during the Korean War and was stationed in Okinawa, Japan.
When he returned home, he met the love of his life, Shirley Mae Jarchow, married her on July 17, 1954, and blessed her with seven wonderful children. Don spent the first many years of their marriage farming with Shirley and working as a mechanic in various towns in eastern Iowa. Their family of nine eventually moved to Conrad, where Don ran a gas station with his good friend Bob Lutes. He was a mechanical genius and was able to fix anything, especially with his "Little Buddy" Jimmy lending him a hand. Don was the family expert for auto repairs and was a patient teacher, most notably when Danette insisted that he oil the squeaky breaks on her car. When Don's customers brought their go-carts and other mechanical toys in for him to repair, he let the kids "test drive" them to make sure his repairs would hold up. Don later worked as a truck driver and in manufacturing, which ultimately led them to settling down in Nevada for his remaining 47 years. Don retired from Sundstrand in Ames, but tinkered in his retirement with property management and maintenance for Flummerfelt Homes to stay active. He loved spending a sunny summer afternoon in the sun on his riding lawn mower and his morning coffee time with his youngest daughter, Kim.
Don was an incredibly hard worker, but also looked forward to making fun memories with his wife and children. He turned their three acres of land in Eldora into a sweetcorn field, but reserved a portion of it for a motorcycle race track for the kids to enjoy. It wasn't long before he could pound a dent out of a motorcycle just as quickly as he could bandage a scraped knee. With seven kids, pulling them all on sleds though the snow proved difficult for just one man, so he hitched the sleds up to the back of the car and away they went!
Don loved passing the time watching the Iowa State Cyclones and the St. Louis Cardinals winning on TV. He was so heartbroken once when his team wasn't playing well that he turned the TV to a Polka show and left it there, telling Mick and Donnie that if they wanted to know how it ended, they could listen to the rest of the game on their way home. Don also loved being outdoors, gardening, going for long drives with Shirley, and anything else that could lead to an adventure. He grew the sweetcorn for the kids to sell at a stand in front of their home and at the county fair, using the extra money for clothes, vacations, and other expenses. One year Don surprised his family by using that money to buy an old bus, converted it into a travel camper, and then took them on an incredible vacation through South Dakota.
Years later, Don and Shirley kept an RV at Twin Anchors campground in Colo, where they enjoyed camping, having visits from family, and catching a fish or two. They enjoyed a few trips to Las Vegas and he loved visiting local casinos. It was not uncommon for Don to disappear for a few hours and then surprise his family with the bounty of his luck. Shannon knew that if Grandpa offered to set the table for dinner there would likely be a portion of his winnings hidden under her plate. He was a surprisingly avid baker, but insisted on calling the stand mixer he received as a gift from Chris his "cement mixer". Don loved his grandchildren deeply, as if they were his own kids, even the ones who were Hawkeye fans.
Don is survived by his wife of 66 wonderful years Shirley (Jarchow) Weyant; his sons Donald (Karen) Weyant of Waldron, Arkansas and Jim (Holly) Weyant of Nevada; his daughters Mick (Doug) Simmons of Panora, Chris Kraaz of Roland, Danette Clark of Boone, Jana (Dave) Ballantyne of Nevada, and Kim (Connie) Weyant of Boone; his grandchildren Nikki Weyant, Donald Weyant, Steven Weyant, Raylene Papenfus, Megan Gawlik, Lisa Sytsma, Melanie Parker, Lori Wesack, Eric Johnson, Shane Creger, Shannon Andersen, Matt Clark, Doug Clark, Nicole Slater, Jessica Anderson, Garrett Anderson, Brittany Ballantyne, Paul Halterman, Andy Halterman, Brandon Kew, Chris, Kew, Ashley Davis, Chris Ortega, Jessica Rosenboom, Aaron Weyant, Sam Crane, Ali Jean Weyant, James Weyant, Blake Davenport, Austin Davenport, and Elizabeth Davenport; thirty great-grandchildren; six great-great grandchildren; his brother Whitey (Mary) Weyant; his sisters Lois (Mervin) Gregerson, Patricia Hanson, and Phyllis Engler; and multiple nieces and nephews.
He was preceded in death by his parents; his sisters Luella Pattison and Eula Larson; his brother Marlin Weyant; and his grandchildren Joshua Weyant, twins John and Jeffrey Weyant, Julie Mathis, and Bryan Strum.
Arrangements have been entrusted to the care of Iowa Cremation. No public ceremony will be planned. The family will celebrate and honor their beloved husband, father, grandfather, and brother at a later date with root beer floats (a favorite of Don's), and a future interment in the Iowa Veterans Cemetery.