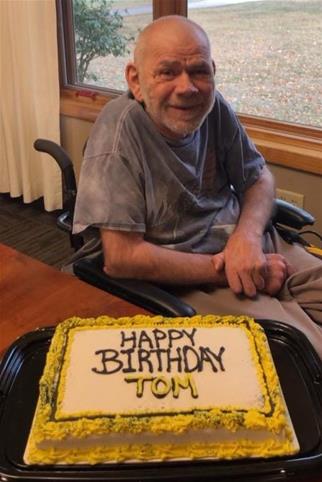 Born on:

October 11, 1948

Departed on:

August 19, 2021

Resided in:

Sheldon, IA
Thomas Dwayne Learing
Tom Learing, 72, of Sheldon Iowa passed away on August 19,2021 at the Prairie View Nursing Home in Sanborn, IA. There will be a celebration of life on October 10th, 2021 at the Eagles in Sheldon, IA from 1pm to 3pm.
Survived by his children Toni (Dan) Ginger of Sheldon, IA and Sam Learing of Sheldon, IA. Three grandchildren Brittni (Zachary) Rosburg of Charter Oak, IA. Destiny Ginger of Sanborn, IA and Danny Ginger of Sheldon, IA. Three Great grandchildren Landon, Makinzee, and Brydan Rosburg of Charter Oak, IA. Siblings, Leroy (Anne) Learing of Sioux City, IA, Sue (Ken) Harts of Liberty, MO, Gary (Pyong) Learing of Texas, and Jan Gill of Yankton, IA.
He is proceeded in death by his parents Samford and Delpha Learing. Siblings Lois Mcintyre, Janet Learing, and Joey Learing. His daughter-in-law Heidi Learing. Brother-in-law Dan Gill and Johnny Mcintyre.
He loved Iowa Hawkeyes, Harleys, and The Raiders. He worked many jobs in his life including construction, tinkered around with cars, helping his daughter with The Can Store and helped run a daycare. For many years when he did daycare, everyone even to this day, called him grandpa. He loved spending time with his grandchildren and great grandkids going on walks and to the park. He would be seen riding his wheelchair to get his morning coffee at Casey's and out talking to his neighbors and friends. He was on crutches or in a wheelchair most of his life but that didn't stop him from enjoying it.
We would like to give a big Thank you to Prairie View in Sanborn for helping take such great care of him, was a blessing to have his granddaughter, Destiny, there when we couldn't always be because of Covid.