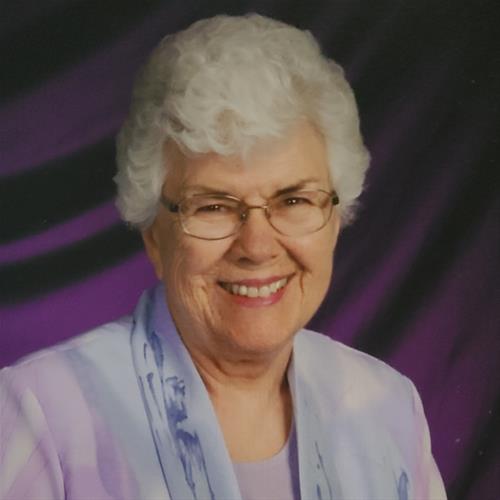 Born on:

January 15, 1934

Departed on:

October 11, 2020

Resided in:

Lansing, IA
Barbara Leppert
Barbara Leppert, 86, of Lansing, passed away on Sunday, October 11th at Gunderson Lutheran Medical Center in La Crosse. She was born in Lansing, Iowa to Walter and Verona (Pottratz) Clancy on January 15, 1934. She graduated from Lansing High School in 1951. Barb graduated from the University of Dubuque in 1955 with a Bachelor of Arts in Education.

Barb married Robert Leppert on June 2, 1957 at the Federated Presbyterian Church in Lansing, Iowa. They had four children: Josey, Lesa, Audrey, and Andy (Robert Jr.). They were blessed with 63 years together, growing in faith, enjoying many family get-togethers, spoiling grandchildren and great-grandchildren, trips, and a lot of laughing with each other.

She was an active member of the United Methodist Church, serving as choir director and worship chairman for many years. She loved teaching and taught elementary school for two years in Postville and 32 years in Lansing and New Albin. She was a member of the Order of the Eastern Star, Lansing Auxiliary, and director at the Food Shelf. Through the years, she supported many charities that benefitted children. It was her and her best friend, Betty Ann Gramlich, who hoped to become missionaries in Africa to help the children and spread God's word. They adjusted their plans and blessed the children and people in Lansing and the surrounding area instead.

She is survived by her loving husband, Robert; four children: Josey (Kenneth) Hopballe, Lesa (Jack) Dreps, Audrey (Paul) Ellbogen, and Robert (Tammy) Leppert, Jr.; brother Carl Clancy; three sisters: Bernadine Feuerhelm, Bebe Truelsen, and Deanna Clancy, sixteen precious grandchildren: Brittany, Cody, and Chris Hopballe, Joshua (Ellie), Jonah (Jennifer), Lynsey (Whaley), and Leah Dreps; Sydney and Sadie Ellbogen; Justin, Maria, Andrea, Elizabeth, Jessica, Ryan, and Brandon Leppert; eight great grandchildren: Taylor, Chloe, Brayden, Hayden, Charlotte, and Ryker.

Barbara was preceded in death by her parents, Walter and Verona Clancy, sisters Betty Munchoff, Beverly Boies, Bonita McKee, and Belva Gramlich; brother Walter Clancy, Jr. and granddaughter Rachel Leppert.

A Celebration of Life was held on Saturday, October 17th at the United Methodist Church in Lansing with Rev. Sedar Shako officiating. A private inurnment will be held at Mays Prairie Cemetery on a later date.

Iowa Cremation of Cedar Rapids oversaw the arrangements.

Barb requests monetary memorial gifts be made out to the Lansing United Methodist Church.