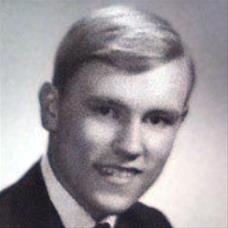 Born on:

December 20, 1948

Departed on:

May 11, 2020

Resided in:

Waterloo, IA
Alan L. Perkins
Alan L. Perkins, age 71, of Waterloo and formerly of Marshalltown, died Monday, May 11, 2020, at MercyOne Medical Center in Waterloo of complications of Parkinson's disease and strokes.

Al was born December 20, 1948, in Marshalltown, the eldest son of Lester Owen Perkins and Shirley (Nelson) Perkins. He graduated from Marshalltown High School in 1967, and in May of 1968 he was drafted into the US Army. He served in Germany as a radio operator and colonel's driver until May of 1970. He worked in wholesale plumbing supply in Marshalltown for many years and later in maintenance for Marshalltown Community College and at The Embers assisted living facility in Marshalltown.

Al loved all things speed, including stock car racing; and ultimately, at the age of 44, he began go-cart racing. He won many trophies and awards in that sport and was very proud of his record and abilities. He was also an avid golfer.

Al had the most beautiful smile, one that lit up his face like a beacon. His sense of humor was legendary, and he was loved by all who knew him.

Al was married twice and had a daughter from each marriage, Kris (Perkins) Husak and Michelle Perkins. But he never got over one special woman, Amy Nye Snow, whom he met in 1967. In 2005, upon re-finding this soulmate and love of his life after a 38-year separation, Al retired and moved to Minneapolis to be with her, and three years later moved to Waterloo to be closer to both families, where Al and Amy together spent the last 11 years of his life.

In 2012, Al suffered the first of three strokes that would sideline many of his beloved activities. On the heels of the strokes, Parkinson's disease set in, leaving Al totally disabled, and with Amy as his caregiver and companion. She tended to his every need, 24/7 for 5 years, at which time her own health began to suffer. Requiring major surgery herself, Amy had to place Al in a residential care facility in late 2017. As she recovered, she continued to visit him there and provide for his needs almost daily.

Al is survived by his daughters, five grandchildren, brother Rick Perkins, sisters Teri Perkins Frye, of Marshalltown, and Cheryl Perkins Susie, of Alliance, OH, and half-sister Connie Loots of Kansas City, MO.