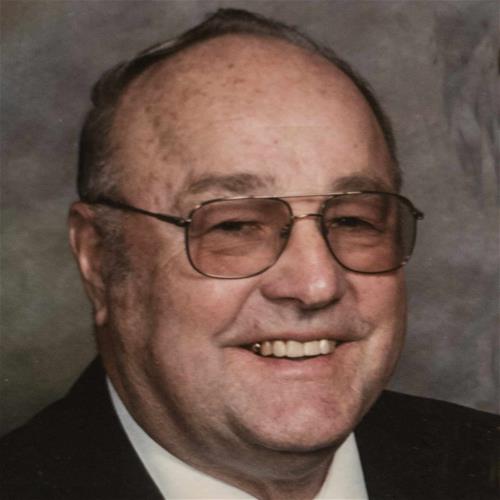 Born on:

October 29, 1930

Departed on:

March 19, 2020

Resided in:

New Providence, IA
Roscoe Albert Nelson
Roscoe Albert Nelson, 89, of New Providence, Iowa, was born to Clarence and Nora Arp Nelson in Audubon, Iowa, Oct. 29, 1930. Roscoe was the youngest in a family of all sisters which included Geraldine, Eleanor, and Clarice. He attended Lake City High School graduating with the class of 1949. Throughout high school he participated in FFA and was awarded its highest award, the American FFA Degree. Roscoe also was an outstanding athlete participating in basketball and football where he was named First Team All-Conference.

Following high school he began farming with his father, and March 9, 1952, married Dorothy Jean Walters in Lake City, Iowa. That year he was also inducted into the U. S. Army serving honorably until his discharge in 1954.

Following his service to our country, Roscoe and Dorothy began their family. Daughter, Elaine Ruth, and son, Stuart Eric, were born. Sadly, Feb. 18, 1964, Dorothy lost her life following a two year illness.

Through mutual friends, Roscoe was introduced to Marjorie Hildreth Paulson, a young teacher who also was parenting a daughter, Jenny, and a son, Dan, alone. On Nov. 13, 1965, Roscoe and Marj were married in Lake City, Iowa.

Desiring to have a new start as a family, Roscoe purchased a farm south of New Providence, Iowa, and in March of 1968 he moved his family of six to a community that welcomed them warmly and to a farm which included two houses.

Roscoe put his adept carpentry skills to work remodeling the larger farm house that through the years became a wonderfully warm, welcoming home to everyone who walked through their door. In later years the second house became home to his son, Dan, who joined him in the farming operation in 1981.

The Nelsons were members of the Honey Creek-New Providence Friends Church where Roscoe and Marjorie were youth group leaders, lay witness mission speakers, members of many church committees, and Bible School teachers. Roscoe participated in a short term mission trip to Guatemala, and the couple had a great heart for numerous other missions. Roscoe and Marj were, additionally, very active in Iowa Yearly Meeting and the ministries of Camp Quaker Heights and Quakerdale. Roscoe will be remembered as a hard working, very generous man.

In retirement from farming, Roscoe loved to golf, fish, and play cards. He always had a front row seat at any activity in which his local grandchildren participated. He also enjoyed traveling, particularly to visit their out-of-state children and grandchildren.
October 15, 2011, Roscoe's wife of nearly 46 years, Marjorie, passed away following a very brief illness. Roscoe 's heavenly home going occurred Thursday, March 19, 2020, at Mary Greeley Medical Center in Ames, Iowa, where he had been admitted hours earlier.

Roscoe is survived by four children, daughter, Jenny (Mike) Wall, Lancaster, SC, daughter, Elaine (Randy) Jilek, Lead, SD, son, Dan (Diane) Nelson, New Providence, IA, and son, Stuart (Susie) Nelson, Liberty, MO; eleven grandchildren Marcus (Laura) Wall, Lyndsey Wall, Shelli (Rocky) Schneider, Scott LaPlante, Josh LaPlante, Brooks Nelson, Alex (Ali) Nelson, Spencer (Lindsay) Nelson, Danae Nelson, Grant Nelson, and Ross Nelson; nine great grandchildren Malachi Wall, Aurelia Schneider, Will Schneider, Burke LaPlante, McCoy Nelson, Ledger Nelson, Preslee Nelson, Lincoln Nelson, and Oaklyn Nelson; sister Clarice O'Toole, brothers-in-law Delman (Gayle) Hildreth, Roger (Linda) Hildreth, sister-in-law Wanda Hildreth, and many nieces and nephews.

Roscoe was preceded in death by his parents, wife Dorothy, wife Marjorie, sisters Geraldine Burns and Eleanor Burchinal, brothers-in-law Jack Burns, Junior Burchinal, Don O'Toole, Bob Hildreth, and DeWall Hildreth, sisters-in-law Nelda Hildreth, and Mary Hildreth, and grandson Brett Nelson.

Due to the current precautions and gathering restrictions, a memorial service will be delayed. Tentatively there will be a service Sunday afternoon, June 7, in New Providence, IA. Memorial gifts are suggested to Camp Quaker Heights or Honey Creek-New Providence Friends Church.