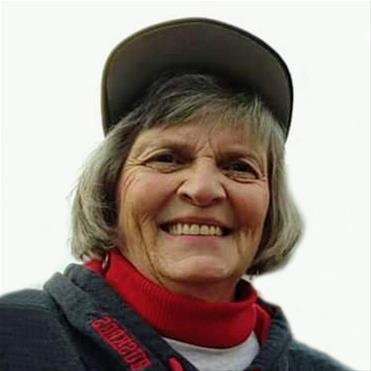 Born on:

March 14, 1947

Departed on:

March 11, 2020

Resided in:

Cedar Rapids, IA
Judith "Jude" Walker
On March 11, 2020, the Nebraska Cornhuskers lost their biggest fan, but there was no bigger fan of Judith "Jude" Wilson Walker than her son, Timothy (Hilkemeier) Meyrick. On March 14, 1947, Jude was born on a crisp 30-degree day to Lynn and Margaret (Seil) Wilson in Carrington, North Dakota. Jude was welcomed home by her two brothers Michael and Timothy. The family would move to Tripoli, Iowa, where she would graduate from Tripoli High School with the class of 1965. Jude would continue her education at University of Northern Iowa and creating an unbreakable bond and lifelong friendship with Kathy Schutte and Barb Blough. Jude would fall in love and move to Norfolk, Nebraska. You could say that Jude's move to Nebraska caused her to become infected with Husker fever. During her marriage to Terry Hilkemeier, they created "the best thing that had ever happened to her," their son Timothy. It was on 13th Street in Norfolk, Nebraska, where Jude has said her life began, the day she brought Timmy home. From that day forward, the Husker fever that she had caught with the move, would now be flowing through both of their veins, together.

When Tim was still very young, together they moved back to Iowa. Everything from the day that Tim was born, Jude did for Tim. Throughout the rest of her life, Jude would work in the field of Administrative Management. A career that she started honing at The Business Institute of Technology in Cedar Falls, Iowa. She then mastered her profession at Modern Business Systems/IKON Office Solutions in Cedar Rapids, IA where she man aged multiple branches and helped the company grow their sales goals to expectations. She was a dynamic force at work with a respectful and driven way to get the work done that she or her team needed to do. Diligent and kind, Jude created lasting friendships with her unselfish heart.

Jude would marry a Hawkeye fan, Craig Walker in 1986, that resulted in the move to Cedar Rapids. Craig would dote on Timothy as his own son and still does to this day. Even though it is of no fault of Craig's own, he remained a Hawkeye and never became the Husker he always knew he should be. After Craig and Jude's divorce, they remained very close friends. Craig would eventually move to Omaha, Nebraska, where he still resides in denial about not converting to the Red side. Jude would never fault him for being a Hawkeye though. Throughout the years after their divorce they would still send each other clippings and other news about their teams, knowing that their respective local news sources were lacking. Another testament to how amazing Jude was and her love of sharing things with people she cared for.

Jude was the best mother to Timothy, always unselfishly placing him before her and never missing the opportunity to tell her "Toot" how much she loved him. There was no other greater bond of mother and son than Jude and Tim. However, you knew better than to be in the same room with them during a Husker football game. If you were, you better be a Husker and if they deemed you a bad luck charm, you would be sitting in the kitchen, as her daughter-in-law Erin can testify to.

Even if Jude would have lived to be 150 years old, it wouldn't be long enough for you to understand the impact she could make on every life that she touched. After Jude's retirement from Cedar Graphics, she volunteered at the Willis Dady shelter and helped immigrants learn to read and write English. Every Tuesday night, her son would come over and eat frozen pizza with her and watch NCIS. Jude loved her grandchildren Quentin (Beitz), Ashlyn, Gage and Kyndall (Blockhus) with every ounce of herself and was proud of them and loved talking about them. Nothing made her life better than to watch her son marry Erin Wakefield. She would say that she completed him, and she had never seen her son happier than he has been since she came into their lives.

Jude is survived, deeply loved and greatly missed by her cherished son Timothy and his wife Erin (Wakefield), Grandson Quentin (Beitz), and chosen Grandchildren Ashlyn, Gage, and Kyndall (Blockhus) all of Cedar Rapids; her partners in crime Kathy Schutte (Jesup) and Barb Blough (Grimes); Ex-husband Craig Walker (Omaha, NE); many accumulated and adored sons Mark (Kristy) Heefner (Cedar Rapids), Carlos (Nancy) Lopez, Bree (Chapel Hill, TN), Chad (Melanie) Huschka (Washington, IA), Lonnie (Angie) Klein (Palo, IA), Lenni (Carrie) Stastny (Cedar Rapids), and Shawn (Kathryn) Walsh (Marion, IA) and Shannon (Jenni) Welton (Palo, IA); her fur babies Kosmo and Newman; many friends and the Nebraska Cornhusker football team.

Jude is preceded in death by her parents Lynn and Margaret Wilson; accumulated and adored son Jeremey Colony; fur babies Clyde Albert Leadbottom, Cooper Puppy, and Chesty Reagan Mattis.

Per Judes wishes, there will be no formal service but there will be one great gathering of family and friends to party and celebrate the life of Jude. The family wishes to invite you to celebrate the life of Jude Walker on Saturday March 21, 2020, starting at 2 pm at the Woodpecker Lodge at Pinicon Ridge. Snacks, Budweiser, Kessler & Coke, and music by Raines Sackett will all be provided. Please dress casually in any Husker Red or Husker gear (Notre Dame is fine as well) and come celebrate the life of Jude with us! In lieu of flowers, memorials may be directed to Timothy Meyrick where a charity will be determined in Judes honor at a later date.