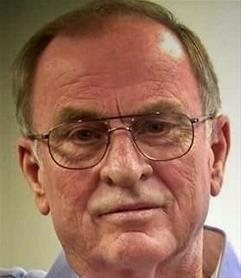 Born on:

September 25, 1944

Departed on:

January 29, 2020

Resided in:

Charles City, IA
Russell L. Mullen
Russell Lee Mullen, 75 of Charles City, passed away peacefully at the Floyd County Medical Center in Charles City surrounded by his loving family on January 29, 2020. A celebration honoring his life will be held March 14th, 2020 at the Floyd County Fairgrounds Enrichment Center building, beginning at 10:30 am. Inurnment will be at a later date.
Russell was born on September 25, 1944 in Charles City, Iowa, the son of Andrew Abraham Mullen and Ruby Pearl (Studer) Mullen. He began working at a young age on his family's farms, where he fondly remembered working in the fields and caring for the animals. Eventually he quit school and gave all his time to helping his mom & dad. He later moved to Algona, IA where he worked at Snap-On Tools at night as a machinist and continued working for a farmer part-time during the day. It was at this time he met his wife Peggy Ann Jensen. They were married on July 2, 1966. Their first-born son, Michael Lee, entered the world on February 7th, 1967. Russell cherished the short time he and Peggy had with him. Over the next 8 years they welcomed their daughter, Shelley and son, William (Bill), and moved to Charles City, IA. Russell worked at Oliver on the assembly line. The toll of physical labor on his body, and other health problems through the years forced him to stop working in 1978.
Most of his life he wasn't able to do what he wanted to do, but always dreamed and mentioned of wanting to provide for his family. He took on the role of supporter to his wife, Peggy when she entered the workforce. He was always the helper; the "do-er." He'd drive friends to doctor's appointments, fix home cooked meals for his wife and kids, take his grandkids (and their friends) to and from school or any activity they needed to be at, he'd be the first to drop everything to help someone, all while making sure the house was clean and groceries were bought. From a bedside to an athletic event, he was always there.
In his earlier years he enjoyed weekend camping trips with family and friends. He enjoyed collecting antique toy tractors, daydreaming about being a farmer, and spending countless times fishing the waters at Lake Okoboji and Lake Ponderosa with his brothers and brother-in-law. He could make a friend with anyone and anywhere. He was known for never missing a good sale and getting something at its best price "maybe 2 if it was a good deal". All his life he kept an open door, and appreciated visitors taking their time to come to him.
He was ready to walk again, be pain free, and live out some of those dreams he always had. In his final days, he gave comfort to his family with his classic phrase, "It'll be fine."
In lieu of flowers, he would have been overjoyed to have donations given to local animal shelters. He always said he would have "saved them all" if he could. His presence will be greatly missed by his dogs, Rusty and Mia.
Living family members include his wife Peggy of 53 years; children: Shelley (Sheldon) Pahnisch of Nashua, Bill (Michelle) Mullen of Mason City; 6 grandchildren: Andrew Pahnisch, Makenzie Pahnisch, Ashley Pahnisch, Samantha Mullen, Joseph Mullen, and Max Pahnisch; 2 great-grandchildren: Charli Callison, Talan Pahnisch and another little Pahnisch in July 2020; 2 brothers and their wives, Dennis (Marilyn) Mullen of Rockford, and Larry (Lorriane) Mullen of Charles City; brother-in-law Roger Ellefson of Corwith, and sister-in-law Mary Jo Mullen of St. Louis Park, MN and many nieces and nephews and extended family.
Russell was preceded in death by his beloved son, Michael Lee; parents: Andrew and Ruby Mullen; grandson: baby boy Pahnisch; brother: Richard Mullen; sisters: Dixie Ellefson and Donna Stufflebeam.