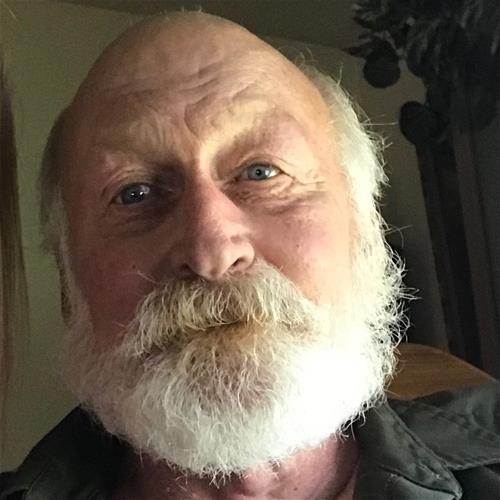 Born on:

March 28, 1954

Departed on:

September 3, 2019

Resided in:

Jewell, IA
Jeff Fredrickson
Jeff Fredrickson was born on March 28, 1954 in Eldora, Iowa and peacefully passed away in the comfort of his home on September 3, 2019 as a result of a short battle with lung cancer. He received his education in Hubbard, Iowa before joining the Navy in 1971 where he was stationed on the USS Hancock, which had a tour in Vietnam.
His early work history involved working for Thompson Hatchery and Hubbard School which lead to his extensive career in plumbing, heating, and cooling.
On October 18, 1980, he married Deborah Steece at the Zion Methodist church in a rural church near Spencer, Iowa. They made their home in Clay County, Iowa before returning to Central Iowa in 1992, where Jeff was born and raised.
Jeff was a member of the American Legion, Plumbers & Steamfitters Union Local 33. During his time in Northwest Iowa, Jeff was also a very active member of the MIA organization that advocated for lost Viet Nam service members.
Jeff enjoyed his morning coffee while watching the ongoing comings-and-goings of the outdoor kittens, which always gave him a good laugh and left him with a smile. During his retirement, he truly valued his time with "the guys" at the Jewell City Shed, watching too many western movies to count, and spending time with Deborah and other family.
He is survived by his wife of nearly 39 years, Deborah; children, Kerry (Christi) of Midlothian, TX, Kurt (Jessica) of Dover, OH, Brandon (Qudsia) of South Africa, and Breann of North Liberty, IA; sisters, Rolla Geisinger (Mike Roll) of Eldora, IA and Cynthia (Tim) Lavernz of Garden City, KS; brother Carroll "Feller" Fredrickson, Jr (Patty) of Amarillo, TX; grandchildren, Courtney (Ashley) Powell, Korbin, Cloie, Peyton, Piper, Matthew, Miya, Jeff, Alexis, Brandon, Hayat, and Hajar; great-grandchildren, Pierce and Mason; and many nieces and nephews.
Jeff was preceded in death by his parents, Ann and Carroll, and both sets of grandparents.
Services will be held at 2pm at Salem United Methodist Church in Hubbard, IA (301 East Chestnut Street) on September 28, 2019.
In lieu of flowers the family encourages donations to Disabled American Veterans Charity at www.DAV.org or the Animal Rescue League of Iowa at https://www.arl-iowa.org/