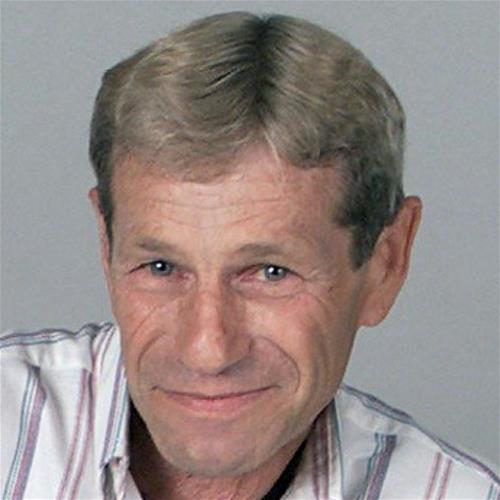 Born on:

July 11, 1942

Departed on:

October 30, 2019

Resided in:

Cedar Rapids, IA
Richard Thompson
Richard Thompson, 78, finally avoided the snow October 30th, 2019. He was a quiet humble man who profoundly touched the lives of those he loved.
Family defined Richard as a loving husband, father and grandfather. Richard lived most of his years in Cedar Rapids. He grew up in Lawton, Michigan on the family fruit market. It was from the farm where he learned the value of hard work and the joys of raising crops. All things farm related remained close to his heart throughout his life. Richard was born the middle child between two sisters that were his protectors, Pat Price and Connie Moffet.
Richard's kind and generous heart was the result of seeing his parents, Winifred & John (Jack) Thompson give fruits and vegetables to strangers, family and friends, and those in need.
Typical of his modest nature, Richard seldom talked about his eight years of service in the Marines. He served his country in the Philippines, Japan, Hawaii, and a tour in Vietnam.
Richard had high native intelligence and an insatiable curiosity. He was a man of few words who spoke with quiet authority, knowledge, and impeccable English. The world made more sense when he was around. He could calm the most troubled waters with his presence and hard earned wisdom.
He was a man of letters and love notes. Richard wooed his wife, Patti Thompson, with a grammatically correct love letter written with beautiful penmanship. Even though Patti forgot to put cream in his coffee when they were dating, Richard forgave her, married her, and spent many happy years together playing cribbage and entertaining family. Patti claims that his beautiful and gentle sounding voice captivated her the most.
Richard possessed courtly manners and a clever whit. Doors were open, curse words were forbidden, and women were treated like ladies in his presence. His resolute patience was slightly painful to observe. Richard gave others his undivided attention.
There isn't much occupationally that he didn't do or try. A short list would be: carpenter, mechanic, insurance agent, real estate manager, business owner and consultant. He was the happiest when he was working with his hands and to quote him, desk work left him "BORED TO TEARS." Whatever work he did do, he made sure it was done right. The pyramids would crumble before any of Richard's projects weaken.
Richard possessed an obvious abundance of pride for his children: Cheri Jakway, Mandy Mackowiak, Staci Becker, and Sean Thompson. One of his many sayings was "I have to buy a new rubber shirt now" because his chest was so puffed out with pride. Richard loved deeply and that love was returned and most obvious in the love he gave to his six grandchildren: Brock, Nash, Maddox, Graham, John, and Isabella.
If there ever were two good buddies, it would be Richard and Doug Nassif. Richard thought of Doug "not only as a friend, but a brother."
The last gift that Richard gave to us was that he died a cheerful and content man. A day in paradise for him would be full of drinking coffee, eating ice cream, conversing about history and classic cars, or watching an old western.
In remembrance of Richard, visit a family owned fruit market, plant a few grape vines, or labor in the sunshine.