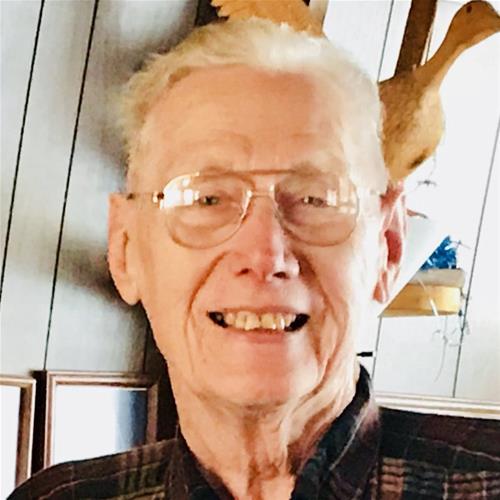 Born on:

February 1, 1933

Departed on:

November 12, 2019

Resided in:

Lansing, IA
William "Owen" Kirk
William "Owen" Kirk, 86, passed peacefully on Tuesday, November 12, 2019 in the family home in Lansing, IA surrounded by family.

Owen was born February 1, 1933 in Stockton, California and moved to Wisconsin in 1945. He later moved to Sparta, WI where he married Dorothy Ann Yahnke on May 21, 1960. The couple eventually moved to Lansing, IA where he designed and built their family home.

Owen got his GED in 1974 and an Honorary Engineering Degree from his Interstate Power co-workers in 1994. In his work life he was a farmer, Army Korean War Veteran, mechanic, and worked in maintenance. He worked at Clark Transport, Northern Engraving in both Sparta and Lansing, and retired from Interstate Power Plant in Lansing, IA on February 1, 1995. He was a jack of all trades and loved hunting, fishing, card playing, wood cutting, inventing, and being with family & friends. He was always ready to tell a joke or a story.

Owen is survived by his wife of 59 years, Dorothy Kirk. Children, Cheryl (Brian) Fuller of Charles City, IA and Jeff Kirk of Lansing, IA; three grandchildren Bethany, Missy and Brian; four great-grandchildren Peyton, Preston, Paxtyn and Jessie. Siblings, Ruth (Dick) Schmidt, Roy (Diane) Kirk, Vicki (Bill) Williams all of Sparta, WI. He will also be missed by the many nieces, nephews, cousins and friends.

Owen was preceded in death by his parents Allan and Hazel; infant sister Louise, brother Donald, and half siblings Alan and Edith.

A Memorial Service will be held at Our Saviors Lutheran Church in Lansing, IA on Sunday, November 17, 2019 with visitation from 1-3pm. Service will start at 3:00 pm with military honors. Inurnment will be at a later date.

The family would like to thank all the staff from the Crossing River Hospice team, and for their love, support and tender care given to Owen.