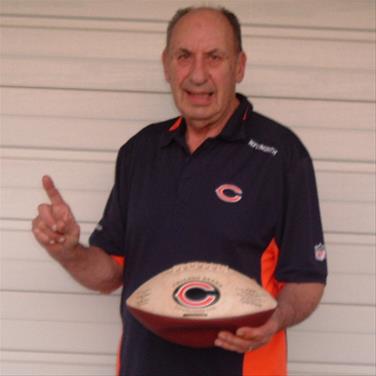 Born on:

February 6, 1935

Departed on:

November 9, 2019

Resided in:

Earlville, IA
John Raymond Wandrey
John Raymond Wandrey, 84, of Earlville, died on Saturday, November 9, 2019, at the EveryStep Kavanagh House in Des Moines surrounded by his family. A memorial service to celebrate John's life will be held at 11:00am on Tuesday, November 26, 2019, at the United Methodist Church at 720 Grand Ave., West Des Moines, IA. A luncheon will follow at the church. Burial with military honors will take place at the Iowa Veterans Cemetery, 34024 Veterans Memorial Dr., Adel, IA, at 2:00pm.
John was born on February 6, 1935, in Oak Park, IL. He grew up in Oak Park and was an avid Chicago Cubs, Bears, Blackhawks and Bulls fan. As a teenager, he worked at Wrigley Field and Soldier Field. He graduated from Fenwick High School in Oak Park, IL, and then attended St. Ambrose College in Davenport, IA. He married Anne Huppenbauer on November 16, 1957. They moved to the family farm southwest of Dyersville where they raised their eight children. John served as active duty in the U.S. Army from 1955-1957 and continued his service as a member of the Reserves until 1961. He thoroughly enjoyed participating in the Eastern Iowa Honor Flight to Washington, D.C.
He is survived by his wife, Marie, and his children: Jack (Barb) Wandrey, Mesa, AZ; Greg (Evelyn) Wandrey, Ankeny, IA; Mike Wandrey, Norwalk, IA; Phil (Sharon) Wandrey, Omaha, NE; Carol (Jim Olson) Squires, Cedar Falls, IA; Barb (Emilio) Mendoza, Grimes, IA; Geri (John) Harris, Fort Collins, CO; Lynn Wandrey, Grand Blanc, MI and his sister, Susan Wandrey, Salem, OR.
Grandchildren include: Brad Wandrey, Crystal (Drew) Walker, Tim (Rachel) Wandrey, Haley (Zach) Vance, Claire (Grant Silliman) Wandrey, Joshua (Nicole) Wandrey, Jordan (Britta Hurd) Ries-Wandrey, Jessica (Nate) Meyer, Kirsten Wandrey, Nicole Wandrey, Rachel Wandrey, Katie (Jess Lashier) Squires, Adam (Ali) Squires, Matthew (Emma Frederick) Squires, Isaac Squires, Tessa Mendoza, and Isabel Mendoza.
Great-grandchildren include: Graham and Adela Walker, Jackson and Colton Wandrey, and Ella Squires.
He was preceded in death by his parents, Raymond and Kathryn (Ernster) Wandrey and his daughter-in-law, Sandra Ries-Wandrey.
In lieu of flowers, memorial donations in John's honor may be directed to the EveryStep Kavanagh House Foundation, 900 56th Street, Des Moines, IA 50312.
Condolences may be left directly for the family by visiting www.IowaCremation.com under Obituaries.
John's family would like to express sincere gratitude and appreciation to the staff at the EveryStep Kavanagh House for their compassionate care.