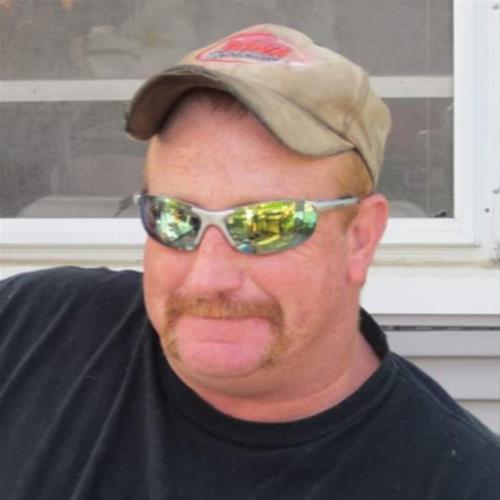 Born on:

July 7, 1965

Departed on:

July 30, 2019

Resided in:

Des Moines, IA
Robert Ray Parrott
Robert Ray Parrott was born July 7, 1965 in Fort Smith, Sebastian County, Arkansas. Bob was the son of Ruben Ray and Sharon Evon Andrews. He passed away July 30, 2019 at the Iowa Methodist Medical Center in Des Moines, Iowa on July 30, 2019 surrounded by family and friends.

Robert was also known as Rob, Jack or Billy depending on who he was with at the time.

He enjoyed spending time with his American Bulldog Billy, going to Nascar events and dirt track races. Watching John Wayne movies, fishing shows, Baseball, Hockey, football and boxing.
He also enjoyed cruising in his Jeep while listening to Johnny Cash and going fishing.

Bob is survived by his partner, Lisa Brewer and her children Becca and Alexis; his mother, Sharon; daughter, Megan Rae Parrott and her children, Nýsia and Jarvis; a sister Sherry Ann Parrott; three brothers, Eric Scott Parrott, Jerod Wayne Parrott and Ruben Brandon Parrott. Bob is also survived by nieces, nephews, as well as many other extended family members and close friends.

He was preceded in death by his father, Ruben Ray Parrott, his paternal grandparents, Roy and May Parrott; his maternal grandparents Marion and Norma Andrews; Uncles Austin Don Parrott, Sr. and Reuben Ray Parrott.

Bob wanted it known that he died as a result of being stubborn, refusing to follow doctors' orders and raising hell for more than 5 decades.

A celebration of Life will take place August 31st.
Please follow Bob's Facebook page for announcements.
https://www.facebook.com/bob.parrott.92

I would like to thank all the Nurses, Doctors and staff for their care of Bob during his extended stay.

Memorial contributions may be directed to the family in loving memory of Bob.