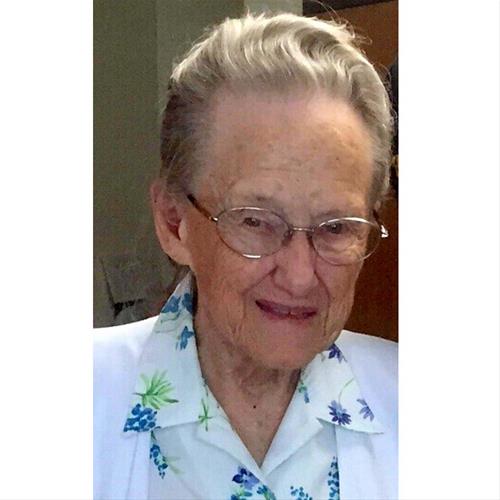 Born on:

April 28, 1925

Departed on:

August 8, 2019

Resided in:

Charles City, IA
Helen Lois Klenk
Helen Lois Klenk (94) of Charles City, IA formerly of Tama, IA died August 8, 2019 at Floyd
County Medical Center. She was born April 28, 1925 in rural southeast Tama County, Iowa, the
daughter of John & Elizabeth (Villers) Klenk. She attended Haven School through the eighth
grade. As a young adult, Helen contributed to the war effort by working at defense related
factories in Waterloo, IA. Near the end of the war, she was recruited to work in the grocery
business. Helen worked as cashier and bookkeeper at Clifton's and Sun-Mart (Members of the
Nash-Finch Company) in Tama and Toledo, IA for the next 45 years. She was a valued, trusted
and respected employee and was honored as "Checker of the Year" in 1964 and 1968 by the
Super Market Institute.
Over the years, Helen's many acts of kindness and gracious hospitality were enjoyed and
appreciated by many. Simply put, Faith, Family and Friends were of utmost importance to her.
Helen's selflessness, care for others and generosity in giving serve as an inspiration to all who
knew and loved her.
Helen is survived by six nephews, Kenneth (Judy) Klenk, Oakville, IA, Richard (Jeanie) Klenk,
Burlington, IA, Lowell (Vicki) LeMaster, Wonder Lake, IL, Charles (Susan) LeMaster, Charles
City, IA, Evan Klenk, Cedar Falls, IA, James LeMaster, Cedar Rapids, IA, four nieces Roberta
Fricke, Gilman, IA, LaRue (Steve) Reis, Green Mountain, IA, Mary (David) Vensland, Champlin,
MN and Jan (Bill) Brown, New London, IA. Other surviving family members are Jess Craun,
Cindy Klenk, Marsha Hand, Donna Klenk, numerous great, great-great and great-great-great
nieces and nephews, nine cousins and many friends.
She was preceded in death by her parents, three brothers, Earl, Robert and Russell Klenk, one
sister, Cora LeMaster, four nephews, Arlen, Gary, John and Vernon Klenk, two nieces, Pearl
Wilkerson and Arlene Craun, step-father, Wm. Nathaniel Marshall, two step-brothers, Vern and
Wilbur Marshall and three step-sisters, Hazel Dickey, Nina Bristley and Viola Hancock.
A memorial service will be held Monday, August 26 at 10:30 AM at the Reinig Civic Center,
1007 Prospect Dr, Toledo, Iowa. A graveside service will be held Monday, August 26 at 1:30 PM
at the Woodlawn Cemetery, 959 -989 S Elm St., Toledo, Iowa.