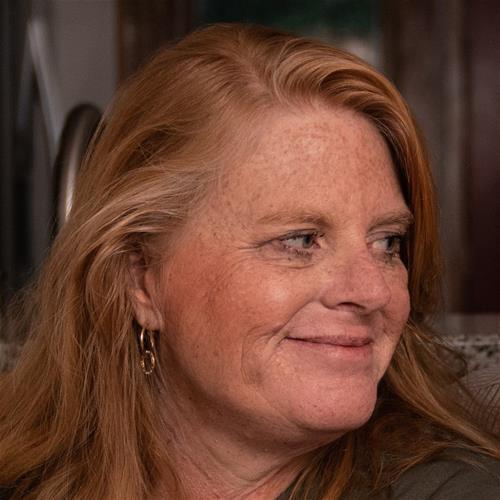 Born on:

September 26, 1961

Departed on:

April 4, 2019

Resided in:

Lamoni, IA
Beth Ann Nelson Delong
Beth Ann Nelson DeLong was born September 26, 1961 in Detroit, Michigan to James and Carole Nelson. Beth passed away on April 4, 2019.

Beth grew up in Troy, Michigan, and after graduating Troy High School in 1979, she moved to Lamoni to attend Graceland University. In 1983, she attained her Bachelor of Arts degree in Early Childhood Development from Graceland, later earning a Master's Degree in Education from Drake University.

While attending Graceland, Beth met and married her loving husband, Dan DeLong. They were married on August 14, 1982. Beth and Dan were the proud parents of two sons, Brenton Daniel (Brent), born on May 19, 1984 and Nicholas James (Nick), born on February 19, 1989. Beth's main focus in life was to be a mother to her children and always put their needs ahead of her own. Her maternal nature extended to all of Brent and Nick's friends, who considered her a second mom. Once her children moved away from home, Beth kept her door open to anyone passing through town as a place of gathering (or watering hole) where locals could always come to meet. Her home was always open to them and she felt blessed to be a part of all of their lives.

Beth's inspirational love for kids has had a lasting impact on Lamoni. Because of this love, Beth (along with her friend Chyre Dively) opened a daycare and pre-school in Lamoni in 1986. The Funshine Center is still open today providing care and support for Lamoni's young families.

Beth continued her life's work with children and youth as a substitute teacher for Lamoni's School System. She was able to spend 30 years mentoring and impacting children, their children, and in some cases their grandchildren. Beth was beyond proud of her two boys and never missed a sporting event…..EVER! Her support for her children's sporting activities inspired her to volunteer for the Booster Club, which she continued to do for many years, even after her boys graduated high school.

When she was not connecting with the youth of Lamoni, you could find her in her yard. Beth had a green thumb and loved to landscape. Roses were one of her specialties. Several years of volunteering for the Community Betterment Committee put her love of flowers to good use. When not in her garden, Beth was an avid reader and provided many volunteer hours to the Public Library Board.

Her joy of travel enhanced her skill as a geography wiz. She particularly enjoyed trips around the world, especially to visit her sister overseas. Google maps was her friend, and she could visually transport you to any country you wanted to go to or learn more about.

Beth and Dan became proud grandparents of a beautiful baby girl, McKenzlie DeLong (Kenzlie) on November 4, 2015. Beth was a dedicated grandmother and was always ready at a moment's notice to go and be with her grandbaby when called upon. Kenzlie and Grandma would always be found walking the zoo on warm days. Spending time with her granddaughter was one of Beth's greatest joys in life!

Beth loved to spend time with family and friends who were always welcome at her home. She had a favorite spot in her kitchen where you could find her perched, ready for a great conversation with a cup of coffee or a glass of wine or two. Beth was always there to provide a bit of much needed wisdom (whether you wanted it or not!) and remained a mentor to many people within the community throughout her life.

Left to cherish her memory are her husband, Dan DeLong and their two sons, Brent with wife Jill and daughter Kenzlie from Norman, Oklahoma, and Nick with wife Alison from Charleston, South Carolina. Beth will also be lovingly remembered by her father, Jim Nelson and sisters Lisa and Kim, as well as all of her DeLong in-laws and many nieces and nephews. Beth was preceded in death by her mother, Carole.

Beth wished to go back to one of her favorite childhood places in Canada where her ashes will be spread. Let's all offer a toast to Beth for all she did to enhance our lives.

The song is ended but the melody lingers on… Irving Berlin

Family and friends are welcome to come and celebrate Beth's life Saturday afternoon April 20th from 2-4 at her sister Lisa's home.