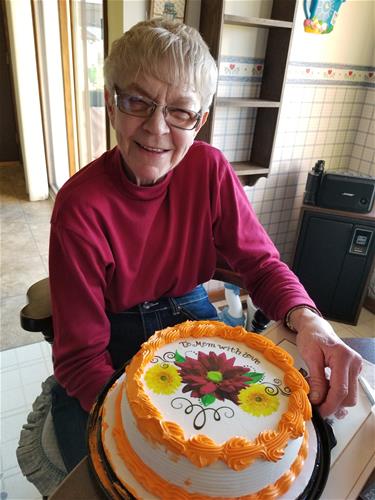 Born on:

May 7, 1941

Departed on:

May 27, 2018

Resided in:

Latimer, IA
Sharron Lee Johnson
Sharron Lee Johnson, 77, of Latimer, died Sunday, May 27, 2018 in Iowa Falls, Iowa after a stroke. She was born May 7, 1941 in Bristow, Iowa, the daughter of Luppo and Trienna (Workman) Schriever. She grew up in Bristow, Iowa.
She graduated from Allison-Bristow High School with the class of 1959. Following high school she enrolled in the Mercedian School for Practical Nurses graduating with her L.P.N. in 1961.
On February 10, 1962, she married Robert "Bob" Irvin Johnson at Bristow Reformed Church in Bristow, Iowa. Bob saw Sharron walking down the street in Hampton, and it was love at first sight for Bob. Later, while Bob was in the hospital after being accidentally shot, love blossomed for them both. To this union were born two children, Kathryn "Kathy" June and Kevin Robert. She and Robert farmed together on the Johnson home place, a Century Farm. Sharron worked 31 years at the Hampton Care Center always on the evening or night shift.
Sharron's first love was her faith life in Jesus her Savior; then her husband, children, grandchildren and future great-granddaughter due in August; nephews, nieces and special friends; working with the handicapped and elderly; and baking, cooking, canning and sharing garden produce.
Sharron's hobbies included gardening, visiting shut-in friends, walking, reading, feeding birds, church quilting, Christian music, jigsaw puzzles, picking up trash from roadsides for which she received a Volunteer of the Year award from Governor Branstad, redeeming cans and donating the proceeds to Relay for Life and CROP Walk.
She was baptized at First Reformed Church (Bristow). She was a member of St. John's Lutheran Church since 1962 and was a member of WELCA, held various offices for the church, and played the organ for nearly 40 years. She was an active participant in Relay for Life and active member of Adopt A Highway.
Those left to cherish her memory are her husband of 56 years, Bob Johnson of Latimer, a daughter and her husband Kathy (Tom) Dagit of Iowa Falls; a son and his wife Kevin (Diane) Johnson of Oskaloosa; four grandchildren: Josh (Kayla) Dagit of Rock Valley; Caleb Dagit of Iowa Falls; Max Johnson of Oskaloosa; and Ruby Johnson of Oskaloosa; a future great-granddaughter; a brother-in-law Leon Casey and a sister-in-law Connie Schriever; special niece and nephews Sheryl Young-Lashley, Scott Young, and Steve Young; many family members and friends.
Sharron was proceeded in death by her parents; her in-laws Irvin and Ruby Johnson; her sister and her husband Lavon and John Young; her sister and her husband Delores and Bud Montgomery; and her brother LeRoy Schriever.
A memorial service will be held Saturday, June 2, 2018 at 1:00 p.m. at St. John's Lutheran Church in rural Hampton, Iowa with Pastor Dan Hanson officiating. Burial will be in the St. John's Lutheran Cemetery. Visitation will begin one hour prior to the service at noon at the church with family present. In lieu of flowers the family asks that you make a donation to Relay for Life, an organization that supported Sharron during her victory over cancer and that she volunteered with every year since supporting other survivors through her deeds and example.