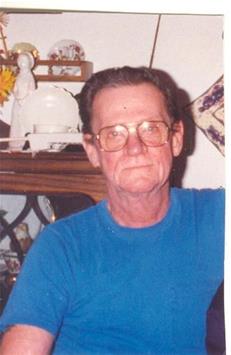 Born on:

March 14, 1938

Departed on:

January 19, 2007

Resided in:
Gerald Orvie Friend
---
Our heartfelt sympathy to you, Ellie, and your family for your loss. We had a lot of fun times at the VFW with you guys and will miss that. Sorry we won't be able to make it to the memorial this weekend, but our thoughts are with you at this difficult time. If we can do anything for you, please let us know. Love, John, Sheryl, David & Mike
I love you Grandma and I'll see you tommorow.
Jethro was a good friend and occasional bunkmate in our hunting camp. He always loved being up there at the cabin, being outside, hunting or not. Every deer season on my first day into camp, I could always count on Jethro to greet me with a big grin and a firm handshake. And a person always knew where Jethro stood. He was not one to mince words. He would tell you like it was, good or bad. But through all the things I ever heard him say, and I heard him say alot, he never once uttered an unkind word for his wife, Ellie. That by itself makes him a rare individual. I've never met you Ellie, but I know that Jethro loved you most dearly. God's Grace and Peace to you and your family.
I really enjoyed his tour he gave us in August when we visited...he is loved and will be missed
worked with Jerry many years and had many a good time in merrimac, baraboo and portage. My sincere condolences to Elynor and family
Elly: I remember Gerald visiting us when I was about 10 years old when we lived in the San Fernando Valley (CA) - he was a Green Beret and I would tell all my friends I had a cousin who was in the Green Berets - I was very proud of him. I'm really glad we were able to see both of you last summer. My thoughs and prayers are with you during this difficult time.
With Love, Avril
I remember Jethro as a man who stood for what he believed and didn't make any excuses if you didn't agree. An honest and sincere friend that shared many deer seasons with me and the Mattson- Morey camp, the bird camp and the fun-filled "play weekends with your toys" weekends at the 'shack'. He was a man you could count on to cover your back and I will miss his 'colorful comments' around the poker table. He will live on in my memory. I will miss him. My best to you Ellie and your family. Please accept my sincere and heart felt sympathy. I know he faced his last years as he faced them all-- straight ahead and straight up. Dan and Bonnie Mattson
Ellie you and your family have our love and share the sarrow. we loved you Gerald, Ray and Jean
Ellie, Our thoughts and prayers are with you and your family. Thanks for the nice visit last August. 06.
Elynor, We don't know why some things happen..but we know that love & beautiful memories outlast the pain of grief. There is a place inside the heart where love lives always.. and where nothing beautiful can ever be forgotten. Gerald will always live on in our memories..... If there is anything Tim & I can do, just ask. Love you all....
a good man and a true friend who's memory I will always hold deer to me,it was my privalage to have knowen him, dave mattson