Honorably discharged veterans that meet certain eligibility guidelines are entitled to benefits including a burial allowance, burial flag, a grave marker, a Presidential Memorial Certificate and burial in a national cemetery. The Licensed Funeral Directors at Iowa Cremation can assist with information and forms to apply for benefits that may be available.
---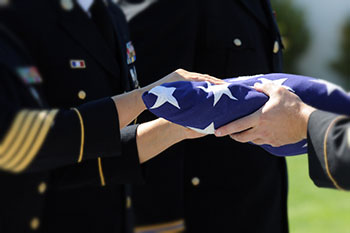 Burial Allowance
Eligibility for Burial Benefits has been significantly reduced and is now available only to a limited number of veterans meeting certain specified conditions.
a. Non-Service Connected Burial Allowance – This is applied to burial and funeral expenses of the eligible deceased veteran.
b. Interment or Burial Plot Allowance – This additional allowance is applied to incurred expenses of interment or burial plot.
c. Burial Allowance for Service-Connected Death – When the veteran's death occurs as a result of a service connected disability, a separate amount may be paid in lieu of the basic burial allowance and the interment and plot allowance.
d. Transportation Costs – The cost of transporting the body to the place of burial may also be paid in addition to the above allowances.
For additional information on eligibility requirements, visit the U.S. Department of Veterans Affiars (VA) at https://benefits.va.gov.
---
Burial Marker
The Department of Veterans Affairs (VA) will furnish an appropriate headstone or marker for the graves of eligible veterans buried in private cemeteries, whose deaths occur on or after November 1, 1990, regardless of whether the grave is already marked with a non-government marker. The VA, however, does not pay the cost of placing the headstone or marker on the grave, any cemetery required stone or foundation for the memorial, or any related marker perpetual care charges.
It is suggested to discuss memorial marker or headstone options with your cemetery prior to submitting a claim to request the memorial. Cemetery rules and regulations may have requirements for the type of memorial allowed.
More information on Memorial Headstones and Markers furnished for eligible veterans is available by visiting the U.S. Department of Veterans Affairs – National Cemetery Administration at https://www.cem.va.gov.
---
Burial Flag
An American flag is available to a veteran who was discharged under conditions other than dishonorable. The flag may be given to the next of kin or a close associate of the deceased. VA will also issue a flag on behalf of a service member who was missing in action and later presumed dead. Flags are issued at any VA regional office, VA national cemetery, or most local post offices.
Eligibility guidelines and application are available at https://www.cem.va.gov/burial_benefits/burial_flags.asp.
---
Presidential Memorial Certificate
A Presidential Memorial Certificate (PMC) is an engraved paper certificate, signed by the current President, to honor the memory of deceased veterans who are eligible for burial in a national cemetery.
Information and an application for the Presidential Memorial Certificate is available at https://www.cem.va.gov/pmc.asp.
---
Contact Information for Questions
National Veterans Affairs Office – 1-800-827-1000
Iowa Department of Veterans Affairs – 1-800-838-4692
Iowa Veterans Cemetery – 515-242-5331