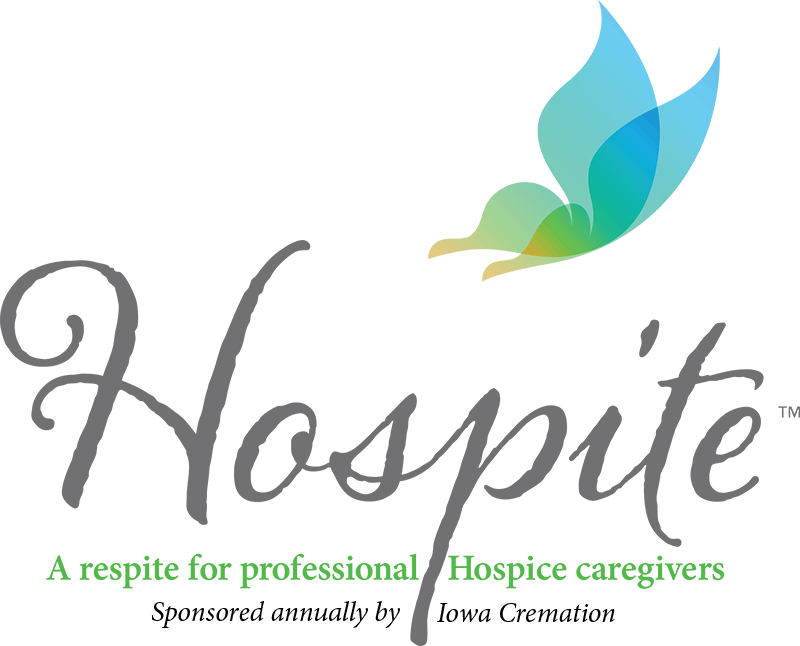 REGISTRATION IS NOW CLOSED- Please contact us at info@iowacremation.com for more information or questions.
***ATTN - THE LOCATION OF HOSPITE HAS CHANGED***
Due to circumstances beyond our control, we were forced to change venues for the Hospite event. The event will now be held at the Youth Inn at the Iowa State Fair Grounds (click the link for a direct map).
Who:
Hospice and palliative care professionals, including doctors, nurses, clergy, chaplains, lay ministers, counselors, social workers, support staff, volunteer coordinators. Invite anyone it would help!
What:
Hospite – A respite for professional Hospice caregivers is designed as a FREE annual program to provide time for reflection, networking opportunities and continuing education for Hospice professionals across Iowa.
CEU fees will be paid by Iowa Cremation*
Please join us for a time of reflection and networking opportunities for hospice and bereavement professionals.
Learner Objectives of the program:
Part I: The Disposition Directive and How Iowa's Laws Affect the Deceased and their Family at the Time of Death
Presented by attorney Paul Morf
The complex issues surrounding Iowa Code 144C are not commonly known – even by some attorneys. This workshop will explain techniques for hospice professionals to advocate for the patients' wishes for their final disposition. Attorney-at-law Paul Morf will help participants understand principles surrounding Iowa's "Right to Control" laws for final disposition and offer tools for those professionals in end of life care to direct clients toward legal resources and remedies.
Upon completion of this portion of the workshop, the participants will be able to:
1. Explore the unintended consequences resulting from case law determined by 'in re Estate of Whalen, No. 12-1927, 2013 Iowa Sup. LEXIS 16 (Iowa Sup. Ct. Feb. 22, 2013)'
2. Describe how Iowa Statutes surrounding the "Right to Control" final disposition (144C) can affect family decisions.
3. Discuss the advantages and/or disadvantages of a Disposition Directive for those facing their imminent mortality.
Speaker: Paul Morf, JD. Paul is an attorney with the law firm of Simmons Perrine Moyer Bergman, PLC, in Cedar Rapids, IA. He earned his law degree at The Yale Law School and has been practicing since 1997. Paul is the chair of Wills, Trusts, Estate Planning and Probate Law practice group.
Part II: Grief Through the Life Cycle
Presented by Keynote Speaker Ken Doka, PhD
This session explores the effect of human development and spirituality upon the mourning process. Specifically, the session traces the ways that attitudes and orientations toward death change throughout the life cycle. Special attention is placed on the ways the developmentally unexpected losses can complicate mourning as well as intervention approaches that can assist individuals of different ages.
Upon completion of this portion of the workshop, the participants will be able to:
1. Discuss the ways that orientations and attitudes toward death change through the process of human development.
2. Discuss how development affects the mourning process.
3. Explore the developmental perspectives on spirituality and indicate the ways that spiritual development affects the mourning process.
4. Evaluate and describe clinical interventions that are appropriate for children, adolescents, middle, and older adults.
5. Discuss the nature of grief support and death education at varied ages.
6. Describe interventive techniques such as bibliotherapy, groups, and ritual.
7. Explore the roles that ritual plays through the life cycle.
8. Define therapeutic ritual and identify four types of therapeutic rituals.
Speaker: Ken Doka, PhD. Dr. Doka is a Professor of Gerontology at the Graduate School of The College of New Rochelle and Senior Consultant to the Hospice Foundation of America. He is one of the authors of the text, Dying & Death: Life & Living and has authored many other books and journal articles. In addition, he has served as a consultant to medical, nursing, funeral service and hospice organizations as well as businesses and educational and social service agencies. Dr. Doka is an ordained Lutheran minister.
Why:
Iowa Cremation is blessed with a staff of caring professionals, who embrace the families you have unselfishly served. It is our unrelenting mission to continue your care, with compassion and dignity. Our similar goals and challenges beg for our continued and frequent dialogue.
When:
Wednesday, October 23rd in Des Moines. Check in at the event will begin at 8:00 a.m. Delicious food will be available during registration, lunch and the afternoon break.
Where:
Hospite 2019 will be held at the Youth Inn Building at the Iowa State Fairgrounds.
Parking:
Parking is available in the attached parking complex.
*CEUs:
CEU fees will be paid by Iowa Cremation.
Nursing Contact Hours: 5.0
CEU/CEHs: 0.6/6 Social Workers
Family Therapist and Mental Health Counselor CEUs pending.
Formal health professional continuing education hours are provided at no cost courtesy of Cedar Memorial/Iowa Cremation. All healthcare professionals in attendance will be provided with a certificate of completion issued by Kirkwood Community College. Participants must attend both sessions in order to receive a certificate. Certificates will be awarded for 100% attendance only (partial credit will not be awarded). Nursing contact hours awarded by Kirkwood Community College Continuing Education, Iowa Board of Nursing Provider #30. All allied health professionals are reminded that they are responsible for reviewing the governing rules of their boards to determine if appropriate subject matter criteria will apply. A course evaluation will be available upon program completion. Continuing education approved by Kirkwood Community College Provider #30. Questions regarding continuing education credit may be directed to Kari Rossetti at Kirkwood Community College.
REGISTRATION IS NOW CLOSED- Please contact us at info@iowacremation.com for more information or questions.