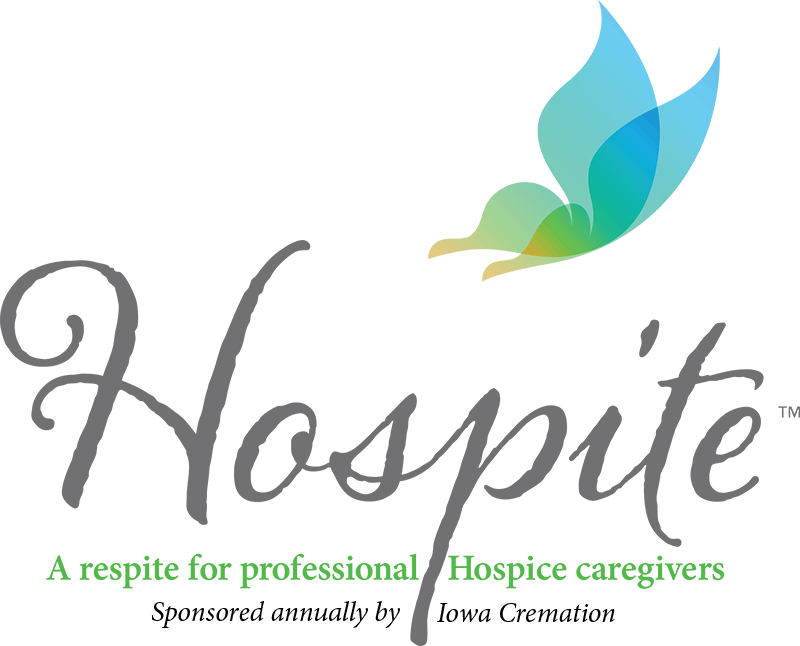 Who:
Hospice and palliative care professionals, including doctors, nurses, clergy, chaplains, lay ministers, counselors, social workers, support staff, volunteer coordinators. Invite anyone it would help!
What:
Hospite – A respite for professional Hospice caregivers is designed as a FREE annual program to provide time for reflection, networking opportunities and continuing education for Hospice professionals across Iowa.
CEU fees will be paid by Iowa Cremation.*
PLEASE PROVIDE LICENSE INFORMATION WHEN REGISTERING.
The keynote speaker for our 8th annual Hospite event is David Kessler, one of the most well-known experts and lecturers on death and grieving today, reaching hundreds of thousands of people through his books. "On Grief and Grieving: Finding the Meaning of Grief through the Five Stages of Loss is co-authored with the legendary Elisabeth Kübler-Ross. David also co-authored with Kübler-Ross, "Life Lessons: Two Experts on Death and Dying Teach us about the Mysteries of Life and Living." David considers it an honor and privilege to have worked so closely with Elisabeth for ten years and to be with her during her passing.
David has helped thousands of men, women and children face life and death with peace, dignity and courage. His experiences have taken him from Auschwitz concentration camp to Mother Teresa's Home for the Dying Destitute in Calcutta. His volunteer work includes serving as a member of the Red Cross Mental Health Disaster Team and as a Specialist Reserve Officer for the Los Angeles Police Department, on its trauma team. He also is chairperson for the Hospital Association of Southern California Palliative Care Committee.
His work has been discussed in the "Los Angeles Times," the "New York Times," "Business Week" and "Life Magazine," and has been featured on CNN-Cross Fire, NBC, MSNBC, PBS, and "Entertainment Tonight." He has written for the Boston Globe and The SF Chronicle. He has also been interviewed on "Oprah & Friends" and now writes book reviews for The Los Angeles Times. He is a featured Grief and Loss expert on Oprah.com and AOL Health Expert.
Why:
Cedar Memorial and Iowa Cremation are blessed with a staff of caring professionals, who embrace the families you have unselfishly served. It is our unrelenting mission to continue your care, with compassion and dignity. Our similar goals and challenges beg for our continued and frequent dialogue.
When:
Thursday, October 25th in Des Moines. Check in at the event will begin at 8:00 a.m. Delicious food will be available during registration, lunch and the afternoon break.
Where:
Hospite 2018 will be held at the FFA Enrichment Center on the Des Moines Area Community College campus.
Parking:
Parking is available in the attached parking complex.
*CEUs:
CEUs and CEHs for Hospite 2018 have not been determined yet. CEU fees will be paid by Iowa Cremation. Continuing education certificates will be awarded by Kirkwood Community College. As an organization accredited to offer continuing education, Kirkwood Community College has approved this program in determining CEUs/CEHs for health providers. Certificates will be awarded for 100% attendance only (partial credit will not be awarded). Nursing CEUs approved through the Iowa Board of Nursing, Provider #30. All allied health professionals are reminded that they are responsible for reviewing the governing rules of their boards to determine if appropriate subject matter criteria will apply. A course evaluation will be available upon program completion.
PLEASE PROVIDE LICENSE INFORMATION WHEN REGISTERING
Go to event Registration Page
Purpose and Objectives
Details to come.