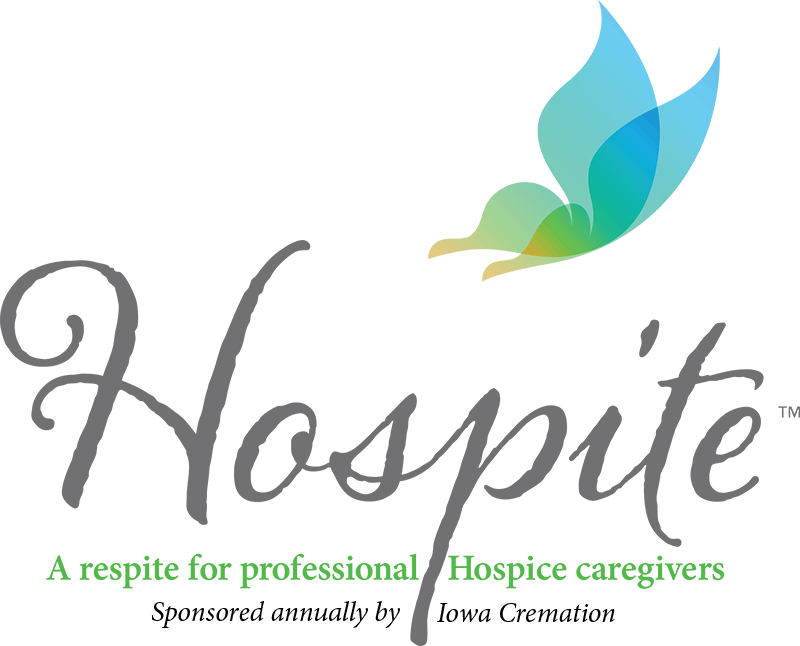 Des Moines Hospite Registration is now closed. For questions, please call 1-888-871-3361.
Who:
Hospice and palliative care professionals, including doctors, nurses, clergy, chaplains, lay ministers, counselors, social workers, support staff, volunteer coordinators. Invite anyone it would help!
What:
Hospite – A respite for professional Hospice caregivers is designed as a FREE annual program to provide time for reflection, networking opportunities and continuing education for Hospice professionals across Iowa.
Please join us for a time of reflection and networking opportunities for hospice and bereavement professionals. The keynote speaker for our 8th annual event will be David Kessler, one of the world's foremost experts on healing and loss. His experience with thousands of people on the edge of life and death has taught him the secrets to living a happy and fulfilled life. David is the author of five bestselling books, including the newly released You Can Heal Your Heart: Finding Peace After Breakup, Divorce or Death with Louise Hay. He co-authored two bestsellers with the legendary Elisabeth Kübler-Ross: On Grief and Grieving and Life Lessons. He will present The Five Areas of Healing Grief: Understanding, Healing, The Mind of Grief, Legacy and Continued Connections.
Grief must be witnessed. We are not meant to grieve alone, yet our society tells us to get over grief and to move forward. But that's just not how grief works or heals. There is no timeline. When we go through the Five Areas of Healing Grief, we can find peace even after the most devastating loss. We can also easily get stuck in one or more of the five areas. Yet, with simple tools and knowledge, those dealing with loss can begin to create a life of peace that honors the love.
Learner Objectives of the program:
Identify the five areas of healing
Discuss approaches healthcare professionals can use to counsel those in grief.
Describe grief "bursts" and explain how to transform feeling of despair into peace.
Identify specific tools healthcare professionals can use to assist those dealing with grief.
Describe how the afterlife, dreams and continued connections affect grief and loss.
Why:
Cedar Memorial and Iowa Cremation are blessed with a staff of caring professionals, who embrace the families you have unselfishly served. It is our unrelenting mission to continue your care, with compassion and dignity. Our similar goals and challenges beg for our continued and frequent dialogue.
When:
Thursday, October 25th in Des Moines. Check in at the event will begin at 8:00 a.m. Delicious food will be available during registration, lunch and the afternoon break.
Where:
Hospite 2018 will be held at the FFA Enrichment Center on the Des Moines Area Community College campus.
Parking:
Parking is available in the attached parking complex.
*CEUs:
CEU fees will be paid by Iowa Cremation. The following is information about the amount of continuing education hours offered:
Nursing Contact Hours: 5.0
CEU/CEHs: 0.6/6.0 Social Workers
Formal health professional continuing education hours are provided at no cost courtesy of Cedar Memorial/Iowa Cremation. All healthcare professionals in attendance will be provided with a certificate of completion issued by Kirkwood Community College. Certificates will be awarded for 100% attendance only (partial credit will not be awarded). Nursing contact hours approved by Iowa Board of Nursing Provider #30. All allied health professionals are reminded that they are responsible for reviewing the governing rules of their boards to determine if appropriate subject matter criteria will apply. A course evaluation will be available upon program completion. Continuing education approved by Kirkwood Community College Provider #30. Questions regarding continuing education credit may be directed to Laura Daman at Kirkwood Community College.