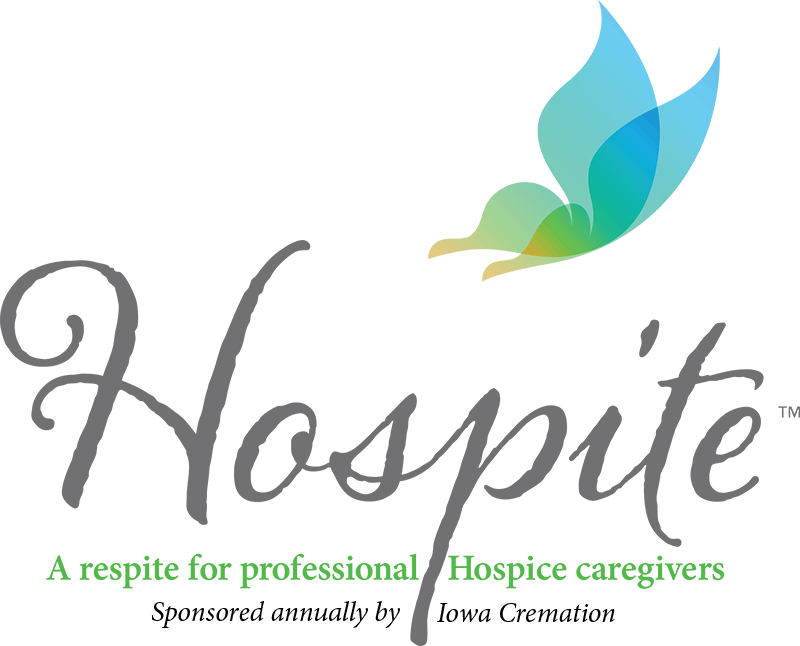 Attend in person in a socially responsible environment—or attend online.
Join us Thursday, October 22nd from 8:00 AM to 3:30 PM in person or online.
The in-person event will be held at the Des Moines Holiday Inn Downtown-Mercy Campus, 1050 6th Avenue, Des Moines, IA 50314.
Who should attend?
This free workshop, sponsored by Cedar Memorial/IowaCremation, is intended for healthcare, hospice and palliative care professionals, including physicians, nurses, clergy, social workers, and support staff. Invite anyone you feel this program will help!
Purpose
This advanced-level workshop will help members of the caregiving community explore the critically important topic of "complicated" grief, an especially timely topic for those dealing with loss during the age of COVID-19. Dr. Alan Wolfelt will present his model for understanding, identifying, and companioning grievers lost in the wilderness of grief. After a significant loss, grief is normal and necessary. But sometimes a mourner's grief becomes naturally heightened, stuck,
or made more complex by especially difficult circumstances surrounding the death or complications surrounding the nature of the relationship. The workshop content will include exploring the origins of complicated grief, risk factors, common symptoms, sub-categories of complicated grief (unembarked, impasse, off-trail, and encamped), and provide specific guidance on caring for complicated grievers. Come join us and learn about this important body of knowledge from one of North America's leading clinical thanatologists.
Learner Objectives
When Grief is "Complicated": A Model to Understand, Identify, and Companion Grievers Presented by Dr. Alan Wolfelt.
Upon completion the participants will be able to:
Describe the modern history of complicated grief
Identify and discuss complicated grief influences and risk factors
Describe symptoms and sub-categories of complicated grief
Describe grief overload and demonstrate sensitivity to the special features of it, especially as it relates to the COVID-19 pandemic.
Explain the use of a companioning model for complicated grief
Explain to the griever how to work on the six needs of morning.
Why do Cedar Memorial and Iowa Cremation sponsor this FREE event?
Iowa Cremation and Cedar Memorial are blessed with a staff of caring professionals, who embrace the families you have unselfishly served. It is our unrelenting mission to continue your care, with compassion and dignity. Our similar goals and challenges beg for our continued and frequent dialogue.
Continuing Education fees will be paid by Cedar Memorial and Iowa Cremation
Pre-registration is required: Visit www.CedarMemorial.com/hospite (Cedar Rapids) or www.IowaCremation.com/hospite (Des Moines) to register for the location that works best for you. Please provide license information when registering. Lunch is included.
Continuing Education Credit: To obtain the 5 contact hours (RNs, NPs, LPNs) or 6 CEUs (social workers and marriage and family therapists/counselors) associated with this workshop, the pre-registered health care professional will need to log-in as directed (WEBCAST) or check-in at venue registration table (IN PERSON), attend the workshop in its entirety, and complete the program Evaluation Form. Partial credit will not be awarded. The health care professional successfully meeting these requirements will receive a Certificate of Completion indicating the contact hours or CEUs awarded for their profession. Certificates will be issued by Kirkwood Community College (Iowa Board of Nursing, Provider #30) via e-mail or regular mail two-weeks following the workshop date. All allied health professionals are reminded that they are responsible for reviewing the governing rules of their boards to determine if appropriate subject matter criteria will apply. PLEASE NOTE: Late arrivals (both online and in-person) will be allowed to attend the workshop—but they will NOT be eligible to earn continuing education credit.
AGENDA
8:00 – 9:00 Registration for in-person attendees
9:00 – 9:30 Introduction – The Wilderness of Complicated Grief
9:30 – 10:15 Understanding the Origins of "Complicated Grief "
10:15 – 10:30 Morning Break
10:30 – 11:15 Complicated Grief Influences and Risk Factors
11:15 – 11:45 Identifying Complicated Grief: Symptoms and Sub-Categories
12:00 – 1:00 Lunch
1:00 – 2:15 Understanding and Acknowledging the Types of Grief Overload and COVID-19
2:15 – 2:30 Afternoon Break
2:30 – 3:00 Companioning Principles for Complicated Grief.
3:00 – 3:30 Facilitating Active Engagement with the Six Needs of Mourning.
3:30 – 4:00 Summary, Evaluation and Dismissal